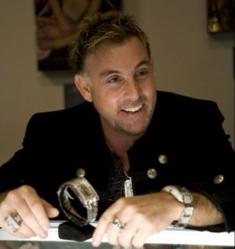 Las Vegas, NV (PRWEB) February 16, 2012
Master Artisan, Steve Soffa takes a rare approach to True Mason Art using gold, diamonds and timepieces as the medium for his expression. Soffa launched his craft in Fortune 100 companies as a head designer, creating timepieces that fit their brand. Soffa has taken that skill and transferred it to his custom design sessions with private clients. He will sit down with a client and figure out their background, hobbies, creative inspiration and, from this information, create a sketch and design that will make a piece symbolizing the client's lifestyle and essentially a client's own brand. Despite his success, Soffa continuously pushes the envelope. His design, construction and sculpting methods continue to evolve and bring renewed life to his line of Hardcore Watches.
Soffa's hard work and dedication proved to be a success when he became the official jeweler of the 2010 World Series of Poker. He continues to create unique pieces and has taken the art of watch making to an entirely new level in his 2012 collection of perfectly-crafted timepieces. Soffa's 'Ace of Pain' design won 2 Gold Awards in the recent Branding show in Las Vegas. One can see Steve Soffa describe his pieces on The Vegas Morning Blend Show's website.
Steve Soffa is an award-winning designer who is also involved within the community. Soffa will contribute by donating time pieces to charities for silent auction items such as the upcoming Keep Memory Alive-Power of Love Gala on February 18th. Soffa is also helping raise funds for the Art Lounge Design Center in Las Vegas. Soffa will be attending the Laughlin River Run Bike Rally 30th anniversary at Edgewater Casino on April 26th-28th.
Steve Soffa
702-248-1922
Steve(at)SteveSoffa(dot)com
http://www.SteveSoffa.com
"I Support The H.O.M.E. Foundation"
About The H.O.M.E. Foundation:
The Helping Others Means Everything, or The H.O.M.E. Foundation, is a not-for-profit organization dedicated to helping our Family of Charities. Frank Verdugo, President of The HOME Foundation, wants to help as many worthy charities as possible as they struggle during these tough economic times. Frank Verdugo helps raise funds through luxury dream home raffles, prizes, and high profile celebrity events in Hollywood... "Our mission is to help charities reach their fundraising goals and to bring awareness to their praiseworthy causes." Please visit our Dream Home Raffle at: http://www.HOMEFoundationRaffle.com and Facebook.
# # #