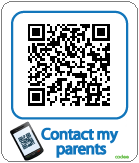 Las Vegas, NV. (PRWEB) February 17, 2012
Codee Software Inc. announced the release of version 2.0 of its QR code platform and the opening of the Codee App Store.
The Codee App Store features easy to use QR code applications designed to help consumers use QR codes in their daily lives. Customers can purchase a relatively inexpensive QR code application which comes with a QR code unique to the consumer and the application. The applications are designed to be very easy to configure and use by the average person. As an example Codees' Contact My Parents application allows a parent to configure a QR code such that when it is scanned it dials the parents cell phone, or sends an SMS text message to the parent. Parents can attach the printed QR code to lunch boxes, books, clothing, or other items. The application can be reconfigured at any time to change the phone number or other parameters without the need to reprint and redeploy the QR code itself.
All Codee applications include the ability to download print ready images of its App Store QR codes. The images can be printed by the consumer or taken to an office supply store for printing. Alternatively, and for a nominal fee, Codee will mail high quality vinyl or paper stickers preprinted with the application QR code to the consumer. Other applications include QR codes to direct mobile users to Facebook, YouTube, various blogging sites, or twitter feeds.
The company's new version 2.0 platform will dramatically accelerate its ability to publish new applications. The company believes that simple to use, focused, consumer applications for QR codes will drive adoption of the mobile technology.
CEO Fred Covely made this comment: "We think QR codes have the potential to bring real value to consumers and businesses alike. It is probable that there are thousands of applications based on QR codes or similar technologies yet to be created that will fundamentally change the way people interact with their environment. The V2.0 application and the Codee App Store are both strong steps in that direction."
The Codee App Store features a 'try before you buy' feature for most of its products that allows consumers to configure and use a QR code before purchasing. Consumers can download the QR code with Codee provided artwork, or use undecorated QR codes as needed. The Codee platform features a consistent architecture for building and deploying applications including generation of QR codes, printing, scan tracking, and geolocation.
In additon version 2.0 of the Codee platform features an upgraded mobile presentation system that delivers state of the art mobile screens for all of the new applications. People scanning the Codee QR codes see polished mobile screens that load quickly and are easy to use. CTO John Motyl said this: "Whether its QR codes, NFC, or image recognition that starts the process, you need a good mobile experience to keep users coming back. Our new 2.0 mobile platform delivers just that".
The company is betting that continued consumer education and the availability of low cost QR code applications will open the doors to new and innovative ways to use Smartphones.
###