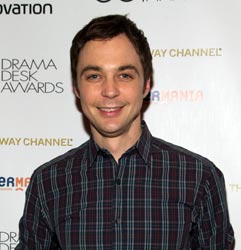 New York, NY (PRWEB) February 16, 2012
This week, TheaterMania reports Roundabout Theatre Company's full casting of the Broadway revival "Harvey". The production will star Jim Parsons (Elwood P. Dowd), Larry Bryggman (Judge Omar Gaffney) and Carol Kane (Betty Chumley). Previews will begin on May 18, with an opening set for June 14 at Studio 54. The play, which won the Pulitzer Prize for drama in 1944, centers on the charming and kind Elwood P. Dowd, who has only one character flaw: an unwavering friendship with a 6-foot-tall, invisible white rabbit named Harvey. To learn more about "Harvey" and other Broadway shows, visit TheaterMania.com.
TheaterMania.com regularly reports on the latest news, reviews and features about the stars and shows on and off Broadway and in regional theater. Find the latest news and get tickets to theater nationwide on TheaterMania.com
About TheaterMania.com, Inc.
TheaterMania.com is the information and ticketing source for over 5,000 shows nationwide. For over ten years, TheaterMania.com has connected the theater community to the public as the leading online resource for consumers to find shows, get tickets, and save money to theater nationwide. TheaterMania.com publishes comprehensive show listings, provides Broadway ticket discounts, editorial content, and video coverage for over 40 markets and widely distributes free email newsletters and special offers to over 675,000 registered subscribers. In addition, TheaterMania.com creates online marketing programs for performing arts organizations, and provides technology to power ticketing, fundraising, and CRM through its proprietary software, OvationTix.
###