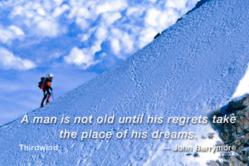 The importance of finding your true purpose or proper calling can not be over- looked in life or business.
New York, New York (PRWEB) February 16, 2012
According to Robert Michael Fried, Fortune 500 Marketing Executive and best selling author of Igniting Your True Purpose and Passion, "The importance of finding your true purpose or proper calling cannot be over-looked in life or business."
The first step in the overall marketing-plan process is to define the business you should be in. Answering this question forces a company to articulate exactly what it does, as well as its raison d'être, or reason for being. It's the beginning of the solid foundation upon which the entire company will be built.
It's important not to underestimate the importance of this seemingly simple question. For example, if the Pennsylvania Railroad understood that they were in the overall transportation business rather than just the railroad business, perhaps they would be in business today. Pity the poor guy in the early 1900s who clung to the notion that he was in the buggy-whip business when the first Model Ts came onto the scene. Stop and think about it: what business is Calvin Klein in? He said it himself: "I don't design clothes, I design dreams." McDonald's is not really in the hamburger business—it's primarily in the real estate business.
Many stock analysts raised their eyebrows when Disney acquired ESPN. They should have understood that the Disney acquisition was a natural extension of the business they were already in – namely, the family entertainment business. What is more family friendly and entertaining than sports? As you know, ESPN doesn't just give the scores; they describe the action on the field in a fun and entertaining way. Other companies have clearly defined or redefined themselves. Google is no longer just the gold standard of the search business; it's in the media business. Apple has naturally evolved into the consumer electronics business. IBM is in the information technology business.
Fried states, we all need to define or redefine our true purpose or "true north" in life.
What if Mohandas Gandhi had remained a lawyer and never liberated India? What if Winston Churchill had decided to become a full-time artist, rather than saving Europe from Hitler's tyranny? What if Elvis Presley had decided to remain a truck driver instead of becoming the King of Rock 'n' Roll? What if Abraham Lincoln, a five-time political election loser, gave up on his desire to serve and decided not to run for president of the United States? What if Rev. Dr. Martin Luther King, Jr. didn't have a dream? What if President Barack Obama didn't believe in change?
All of these people had a purpose. Once they defined their purpose, they took positive action to fulfill it. In her thought-provoking book I Will Not Die an Unlived Life, author Dawna Markova explores purpose. "Purpose is the drive to close that circle, finish that song, scratch that itch, bridge that gap; it's the natural energy in each of us—urging growth."
Robert Michael Fried offers some key questions in exploring life's purpose:
1. What's unfinished for me to experience?
2. What's unfinished for me to give?
3. What's unfinished for me to learn?
4. What's unfinished for me to heal?
5. Am I doing what I really want to do?
6. Am I now following a path that leads me to my true purpose in life?
7. Do I even know what I'd really like to do? (That's the kicker question.)
Don't expect these answers to come in a flash. Exploring your life's purpose is a process. Igniting Your True Purpose and Passion will start you on that journey of discovery.
Robert Michael Fried is the best selling author of Igniting Your True Purpose and Passion. He is a Fortune 500 marketing executive who has guided the strategic direction for companies like Motorola, Nautilus, bebe eye-wear, and several emerging Silicon Valley firms. He is co-founder of Thirdwind.com, a company dedicated to helping people achieve true success by making meaning as well as money.
Contact:
Wandia Chiuri, Director of Social Networking
wandia(at)thirdwind(dot)com
###