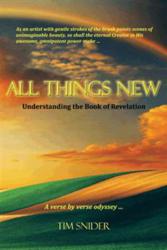 Mineral Wells, Texas (PRWEB) February 17, 2012
"'All Things New' is not just another book on Bible prophecy," writes Tim Snider, author of the new book, "All Things New: Understanding the Book of Revelation" (published by WestBow Press). "Are we the terminal generation? Are we the generation of mankind that will see the fulfillment of its prophecies? This book answers those questions."
Snider, a Bible teacher, takes a pragmatic approach to analyzing Revelation. "I was concerned that all of the books on the market dealing with end-times, particularly the Book of Revelation, were written in language that was too academic for the average Christian or non-Christian reader to understand," explains Snider. "There needed to be a book, written by a layperson (not a theologian/scholar), that explained the book verse-by-verse so that anyone with average intelligence could at least get a basic understanding of the message of Revelation."
Astutely organized for easy reference, "All Things New" explores Revelation verse-by-verse to deliver informative supplemental information and thoughtful commentary to enlighten the Christian and secular reader alike.
While an effective study guide of Revelations, "All Things New" also provides readers with a greater understanding of modern challenges.
"The book of Revelation needs to be engaged, more now than in any era of human history," Snider notes. "The Book of Revelation, although written to churches over 2000 years ago, speaks particularly to churches today that are experiencing the same problems and concerns as those first century churches. Since the message of God's Word is the same yesterday, today and forever (Hebrews 13:8), it applies not only to the church and those people living in the first century but to all men everywhere for all time."
About the Author
For over 25 years, Tim Snider has researched and taught Bible prophecy. Writing as a layman to laymen, Christian or non-Christian, his simple yet studied approach to the book of Revelation offers a fresh, new insight into a subject that has long been controversial and difficult.
WestBow Press is a strategic self-publishing alliance of Thomas Nelson, Inc., the world's largest Christian publisher, and Author Solutions, Inc. (ASI) — the world leader in the popular self-publishing industry segment. Through this partnership, authors benefit from the rich publishing heritage of Thomas Nelson and the speed-to-market advantages of the ASI self-publishing model. Titles published through WestBow Press are evaluated for sales potential and considered for publication under the Thomas Nelson imprint. Thomas Nelson, Inc. continues to "inspire the world" with distribution of products in more than 100 countries worldwide. For more information, or to start publishing today, visit http://www.westbowpress.com or call (866)-928-1240. Follow us @westbowpress on Twitter for the latest news.
###