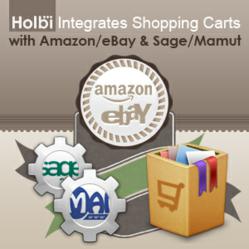 We've really managed to bridge the gap between eBay/Amazon and a variety of eCommerce platforms.
(PRWEB UK) 21 February 2012
Amazon and eBay are the two world's most powerful marketplaces with huge customer bases amounting to hundreds of millions of buyers every week. Tapping into Amazon and eBay in addition to your existing online store has become a common practice among businesses worldwide. However, the more channels a vendor has, the more time-consuming and difficult it gets to manage each one of them separately. Holbi's solution aims to centralise all the selling channels by seamlessly integrating Amazon and eBay with a variety of shopping carts. The beauty of such integration is that most of the Amazon-and eBay-related operations, such as product listing, stock and order processing, order fulfilment, shipping and payments, can be quickly and easily processed from a single place in the store back end.
Vadym Gurevych, MD at Holbi: "We've really managed to bridge the gap between eBay/Amazon and a variety of eCommerce platforms. Now you may forget about managing different selling channels separately, our solution is designed to empower you with a full-featured integrated dashboard to control all operations from, save you time, eliminate unnecessary hassle and get the most out of each of your selling channels!"
As far as eCommerce is concerned, having an efficient accounting system in place is of utmost importance. The major problem here though is maintaining a product catalogue and inventory control in an online store and your accounting system. Re-keying data all the time between the systems is both time-consuming and prone to human error. Holbi, however, has designed a solution which will synchronise data transfer between the online store and Sage or Mamut - the two most popular accounting applications in the UK.
"Linking your shopping cart with either Sage or Mamut will streamline your business processes, increase productivity and prevent the risk of false accounting data entry. Both Sage and Mamut are two very powerful accounting solutions, but it is only when they are synchronised with your eCommerce solution, that they reveal their full potential, lending you more time to focus on growing your business," said Mr. Gurevych about the eCommerce integration for Sage and Mamut.
Unlike earlier solutions, either of the integrations takes only 1-2 days now to be fully implemented. Available at just £59 per month, the integrations are backed up by full support as well as all further updates regarding any changes in the Amazon and eBay APIs.
For more information about Holbi please visit http://www.holbi.co.uk.
About Holbi
Holbi is a trading name of DataLink UK Ltd. Holbi provides eCommerce design, development and consultancy services to online retailers, manufacturers, businesses, and individuals who rely on technology and gear their sales through the Internet. We specialise in providing eCommerce integration with accounting software (sage, mamut) and creating support and maintenance contracts to ensure the highest level of interactivity and fulfilment.
# # #