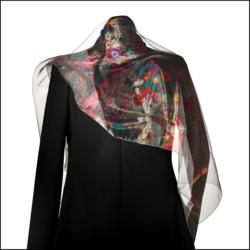 "Two particular fabrics from our collection, Phantom and Valija, were specially selected to make the silk scarves for Swissôtel," explained Michele Rondelli, Creative Director at Jakob Schlaepfer Décor
Zurich, Switzerland (PRWEB) February 16, 2012
"Two particular fabrics from our collection, Phantom and Valija, were specially selected to make the silk scarves for Swissôtel," explained Michele Rondelli, Creative Director at Jakob Schlaepfer Décor, who is responsible, among other things, for the Home Décor line. "The Phantom fabric is a high-tech material with metal fibres made of bronze, aluminium and copper that produce an iridescent shimmer in varying shades. It is also the lightest fabric in the world, weighing just 10 grams per square metre. Like a soap bubble, the fabric becomes more transparent the more light falls on it. This groundbreaking innovation won Jakob Schlaepfer the RED DOT Design Award and the Design Preis Schweiz Award in 2011." Valija, meanwhile, is the finest Italian silk printed with seasonal colours on a blue or grey background.
Both fabrics incorporate the trademark Swissôtel Circles, the silhouette circles inspired by the "Wheel of Life", bearing modern and traditional motifs from Switzerland. The Swissôtel Circles can be found in the hotel lobbies and guest rooms and on other gift items in the online shop, and are a recurring theme throughout the deluxe hotels in 16 countries worldwide, serving as a reminder of the Swiss origins of the international hotel chain. "We see Jakob Schlaepfer as an ideal partner, as we represent the same values," remarked Lilian Roten, Vice President Operations Swissôtel Hotels & Resorts. "For us, too, in an international environment, innovation, teamed with Swiss tradition, and high quality are at the heart of our corporate philosophy."
The Jakob Schlaepfer textile manufacturing company, established in St. Gallen as an embroidery business in 1904, produces around 3000 creations, all characterised by vibrant creativity and innovation, each year. The company not only produces fabrics for haute couture: in 2008 it launched its Décor collection and now produces curtains, wallpapers and wall coverings – some of them produced by industrial methods using state-of-the-art laser technology, while others are still handmade, with punched foils, strips of flowers or sequins painstakingly sewn on individually by hand. More information can be found at http://www.jakobschlaepfer.com .
###