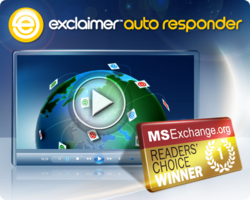 We put users at the heart of our software – I think it paid off.
New York, New York (PRWEB UK) 21 February 2012
MSExchange.org, an online authority for professional Exchange administrators, named Auto Responder the best 'Exchange Administration' tool in its Readers' Choice Awards, Exclaimer announced today.
'We put users at the heart of our software and it clearly paid off,' said Exclaimer's CIO, Chris Crawshay, at the launch of their new video guide to Auto Responder.
'It had to be simple enough to set up in minutes, but handle even the busiest environments and offer a depth of functionality without confusing the user – the challenge wasn't putting abilities in there, but making them easy for users to reach.
'We tried to create a product users would want – I think winning a completely user-chosen award proves we did.'
Auto Responder lets an admin control auto-replies, and all users' email, with rules: adjusting any part of the reply based on data in the inbound email or even environmental cues – like the date or time it was received.
The new video guide to Auto Responder, Exclaimer posited, helps detail the huge range of capabilities in a fast, logical and accessible way.
Chris Brown, marketing director, continued, "because Auto Responder isn't just for replies, it can change any email sent or received, users had to grasp its address adjustment (like 'Karen@' to 'HR@'), silent Bcc and other features."
Exclaimer's CEO, Andrew Millington, explained, 'winning a user-decided award is the highest praise a software company can receive.
'In 12 years, we've gathered 37 million users worldwide, in financial giants, technology leaders and local businesses – because we've always tried to create what they wanted and needed.'
###