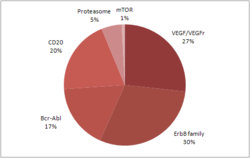 Novel approaches in the development of new drugs along with broader mechanisms of action for existing therapeutic approaches will bring real clinical benefits to patients and will have fewer side effects. The challenge for industry and society alike will
Chichester, West Sussex. UK (PRWEB) February 23, 2012
According to a new Espicom report, Targeted Cancer Drugs:The launch landscape to 2018, the global cancer market could be set for rapid growth in key sectors, driven by increasingly un-met clinical need and the introduction of new drugs which effectively target new pathways.
The end of 2011 saw the US approval of two new molecularly-targeted cancer drugs, alongside companion diagnostic tests that identify the patients most likely to benefit from treatment. Pfizer's Xalkori and Roche's Zelboraf were both approved following a priority review, highlighting the importance that the FDA has placed on hastening the passage of these therapies to market. These approvals reflect the trend of treating cancers based on their molecular and genetic characteristics, rather than their location within the body.
Such developments have long been heralded as marking the future of cancer therapies and the benefits to patients, clinicians and health payers is clear.
Whilst current and future markets will continue to be dominated by drugs directed against VEGF and EGFr, such as Roche's Avastin and Herceptin, it is the development of novel biological approaches that will bring a sea change to the way cancer is treated. Current clinical trial data are showing impressive improvements in controlling solid tumours in leading sectors such as lung, breast and prostate cancers and a number of these drugs could be on the market in 5 years time.
Sue Viney, senior oncology analyst at Espicom and the report's author comments "Novel approaches in the development of new drugs along with broader mechanisms of action for existing therapeutic approaches will bring real clinical benefits to patients and will have fewer side effects. The challenge for industry and society alike will be the affordability of these products in times of economic restraint".
For further information on the report please visit Targeted Cancer Drugs.
About Espicom
Espicom Business Intelligence is a leading publisher of medical and pharmaceutical market analysis. With over 50,000 users worldwide its reports, news services and analysis products are used regularly by key decision makers in industry, government and commerce. A full catalogue can be found on the web at http://www.espicom.com.
For further information and review copies contact
Ian Taylor, Research Director
ian_taylor(at)espicom(dot)com
Tel:+44 (0) 1243 756019
###