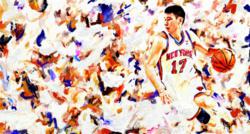 We want to see David bring down Goliath
Los Angeles, CA (PRWEB) February 17, 2012
Pop artist Leon Jimenez watched as Jeremy Lin of the NBA's New York Knicks brought down his beloved Lakers and the mighty Kobe Bryant and couldn't help but be inspired.
"It really is David vs Goliath. The same reason Michelangelo sculpted him is the same thing that inspired me", Jimenez said. He added, "that is what is inspiring everyone and creating this 'Linsanity'. Deep down we feel we can never really be 'like Mike', but maybe with the right opportunity we can be 'like Lin'. So we want to see David bring down Goliath".
Artists have been painting athletes since ancient times and their mythos seems to endure. With the popularity of sports memorabilia and collectibles art prints by established sports artists like LeRoy Neiman and Stephen Holland sell for thousands. Their success draws another comparison for the 42 year old artist. "They certainly are the LeBron and Kobe of Sports art and I do feel like Jeremy Lin did a couple weeks ago." Leon smiles," As much as I may admire them, given the opportunity I know I can go head to head. But for now I am on the bench and, well, quite a bargain".
Jeremy Lin joins Lebron and Kobe as well as Blake Griffin, Larry Bird along with Baseball legends Mickey Mantle and Sandy Koufax as recent additions to the artists portfolio.
Limited Edition (of 17 to match Lin's number) 67x36 rolled giclee canvas and open editions starting at $29.99 are available exclusively at laartwork.com.
###