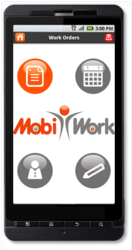 We are excited to close this level of funding at this stage of our evolution, to fuel the delivery of innovative mobile technologies to the market.
Hervé Rivère, MobiWork CEO
Boca Raton, FL (PRWEB) February 17, 2012
Mobile workforce software company MobiWork today announced that it has received $2.5M in funding from French based HoldRiver S.A.S.
MobiWork has closed this funding round in order to accelerate development of smartphone/tablet based mobile workforce solutions for any business with a mobile workforce. Its flagship product 'MWS' connects customers, office and mobile workers via a fully integrated smartphone and SaaS/cloud based solution.
Funding has been sourced from HoldRiver S.A.S., a private investment group based in Nice, France. Funds will also be applied to the expansion of MobiWork's infrastructure and operations, as well as the continued growth of the direct sales and partner channels.
Hervé Rivère, founder and CEO of MobiWork stated: "We are excited to close this level of funding at this stage of our evolution, to fuel the delivery of innovative mobile technologies to the market. We have a worldwide customer and partner base that are dependent upon our solutions, and this capital injection will provide additional assurance and validation of our current and future plans for aggressive expansion."
He added: "We will be making significant announcements throughout 2012 regarding new and upgraded offerings in the mobile workforce sector, continuing to build on our SaaS/cloud and smartphone/tablet platform. MobiWork will raise the bar both for businesses that are looking to modernize their ability to service customers with mobile workers, and for partners who are looking to add new mobile solutions to their portfolio.
Compared to traditional mobile workforce management solutions, MobiWork solutions empower the entire workforce and customers, are not limited to simply tracking vehicles, and do not require proprietary hardware devices or a slow/cumbersome laptop - just an off-the-shelf smartphone or tablet.
About MobiWork
MobiWork is a privately owned software technology company based in Florida, focused on mobile workforce solutions. It was founded in 2009 by a team of highly experienced software engineers. Its mission is to empower businesses that employ mobile workers with leading edge, comprehensive and seamless smartphone/tablet based solutions. MobiWork solutions deliver increased productivity, insight, service quality and competitive advantage.
For more information visit http://www.mobiwork.com or contact 1-888-MOBI-WRK or info(at)mobiwork(dot)com.
###