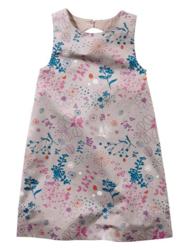 (PRWEB UK) 21 February 2012
Hot on the heels of its latest Spring/Summer clothing collection release is Vertbaudet's most recent seasonal offering - the newly launched Spring/Summer 2012 Home Collection catalogue. Vertbaudet's Home collection is a comprehensive supplement to the clothing collection, bursting with soft furnishings, accessories and children's bedroom furniture offerings that wholly complement the luxury brand's exclusive take on fun, stylish and practical children's clothing.
The latest Home Collection builds on the successes of 2011, with the Vertbaudet Spring/Summer 2012 catalogue set to offer an exciting and fresh range of furniture and home accessories perfectly attuned to the coming season. The latest décor designs include a 'bring the garden inside' collection, which perfectly demonstrates the catalogue-wide running theme of inspiration from nature. Soft shag-pile rugs designed to imitate grass and decorated with upholstered flowers, themed stickers and a portable bed accented with cute illustrations in earthy tones set against bright whites are just some of the highlights of this range.
Following on from 100DRINE's guest designer spot last year, innovators LZC Studio have taken up the challenge and subsequently created a selection of exclusive designs for Vertbaudet's Home Collection for Spring/Summer 2012. For the new catalogue, LZC Studio has brought together a stunning décor collection, featuring their signature charmingly quirky but delicate motifs that have been inspired by the natural world. Beautiful muted tones accented with purple, pinks, greens and lavenders abound, decorating the likes of bed linen, lampshades, bedroom furniture, rugs and even special play sets.
In true Spring/Summer style, the floral and gorgeously girly pastels continue throughout the range, helping Mums and Dads to create the dream bedroom or play area for their little princesses. The cute flower prints embellish, adorn a and enhance both bed linens and larger pieces of furniture, such as Vertbaudet's solid wood nursery desk, the practical yet fun compact wall-mounted bedside mirror, a storage chest and even a mobile library!
An Action-Packed Spring/Summer Home Collection
But the new Home Collection isn't all about florals and pastels – there's plenty of action and adventure woven into the new Spring/Summer 2012 range too! Young explorers can have their imagined alighted and become King of the Jungle with Vertbaudet's selection of jungle-themed furniture, including storage boxes, desks, rugs, and bed linen, as well as some truly inspired giraffe-shaped bedside tables for an extra element of safari adventure! And come lights out, little ones who have spent all day motoring around the playground or park will feel much more inclined to speed their way to bedtime, content to snuggle under a selection of Vertbaudet's own Disney Cars-inspired bed linens and duvets.
Vertbaudet and Baby Bedtime
Like its designer baby clothes collection, Vertbaudet's new Home Collection also offers stylish and practical interior décor solutions for new additions to the family, from tiny newborns through to toddlers who have recently found their feet!
Vertbaudet understands that Mums and Dads want to ensure that baby is kept safe, secure and comfortable throughout the night. The new Spring/Summer Home Collection for 2012 maintains Vertbaudet's committed and caring approach to 'designing for children in mind', with a beautiful range of cot bumpers and sleep bags. One such example is the Newborn Baby Nest, with its inner belt that delicately supports baby while sleeping. The baby nest is crafted from organic cotton, a soft natural material grown without the use of pesticides or chemicals to help protect the environment, as well as baby's soft and fragile skin. The Newborn Baby Nest is adorned with a cute bunny print and lined in bunny-print jersey, complete with 100% polyester lightweight padding to make sleep time that extra warm and cosy.
And for baby who can't sit unaided, Vertbaudet's Spring/Summer 2012 Home Collection is host to a range of practical but charming cot bumpers, including the machine washable organic cotton Botanical Garden cot bumper design with its seasonally inspired printed apple and flower motifs and appliqué ribbon.
To find out more about Vertbaudet's Spring/Summer 2012 Home Collection, or to request a catalogue, visit http://www.vertbaudet.co.uk
About Vertbaudet
Vertbaudet is an award winning children's clothing and maternity wear brand, which forms part of the Redcats Group alongside other industry leaders such as La Redoute, Daxon and Empire Stores. Redcats Group is a member of PPR Group, together with a number of luxury brands such as Gucci, Yves Saint Laurent and Stella McCartney.
Founded over 40 years ago in France, Vertbaudet is recognised as a leading European baby and children's wear specialist, with an established home shopping network and high street stores throughout Europe and Saudi Arabia.
###