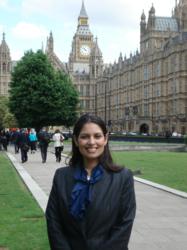 Dancing Giraffe is one of the most exciting and innovative projects to create opportunities and meet the needs of disabled people to be made available for a long time.
Essex, England (PRWEB UK) 17 February 2012
Founder and CEO Shaun Moffat says he is delighted at having such a dedicated and influential Patron. 'Dancing Giraffe is one of the most exciting and innovative projects to create opportunities and meet the needs of disabled people to be made available for a long time. As soon as Priti heard about our work, she embraced the whole Dancing Giraffe concept and was eager to help us; we are incredibly appreciative of her support'.
Priti Patel said: 'I am delighted to become a patron of Dancing Giraffe and decided to take on the role after seeing the important work they do for our community. I feel Dancing Giraffe provides a vital service for the disabled and I was particularly impressed by their excellent sign posting services for disabled people, outreach programmes and support services. It is an honour to become their first patron'.
Dancinggiraffe.com is a not-for profit organisation run almost exclusively by volunteers – many of whom have disabilities themselves. The site is designed to support, inform and inspire disabled people, their carers and support organisations. The most unique element of dancinggiraffe.com is that the site will provide information about services and facilities available to disabled people, their carers and support agencies, in one easily accessible place.
'We have been overwhelmed by the interest around Dancing Giraffe,' says Shaun, who is registered sight-impaired. 'It's going to revolutionise the way the disabled community accesses information but we urgently need more volunteers. We are growing incredibly quickly and we need people who have around four hours a week spare to get involved to take on a variety of voluntary roles including; writers for the site, online researchers, drivers and fundraisers'.
To find out more, visit http://www.dancinggiraffe.com or telephone 01206 571199
Editor's Notes:
Shaun Moffat CEO Dancing Giraffe

Shaun Moffat is the CEO of Dancing Giraffe. A local businessman, Shaun has severe Diabetic Retinopathy and is registered sight impaired after progressively losing his sight since 2006. Since then Shaun has been campaigning for better access including working as an Eye Health Ambassador for the RNIB. An informed campaigner, Shaun is happy to accept interview opportunities to raise the profile or the organisation and talk about disability access.
Priti Patel MP
Priti is the Member of Parliament for Witham. She is married and has a young son. Born in London she was educated at a comprehensive secondary school in Watford and went on to study at Keele University and then the University of Essex.
Priti has worked in the international communications industry for over ten years and until recently was the Director of Corporate Communications at a major international company.
She has worked around the world and has direct experience of dealing with a diverse range of issues from bringing education to communities in Africa and India to foreign direct investment around the world and agricultural issues in the UK. As a former School Governor, Priti cares passionately about education. She is a supporter of a number of charitable organisations and is delighted to become Dancing Giraffe's first patron.
###