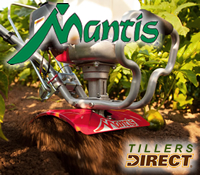 With more than 30 years experience, Mantis has developed a reputation for building high-quality cultivators
Bolingbrook, IL (PRWEB) February 16, 2012
Today TillersDirect.com announced a new, expanded assortment of Mantis tillers.
"Mantis cultivators have become a favorite tool of the avid gardener," said Bob Crewe, resident tiller expert at Tillers Direct. "With more than 30 years experience, Mantis has developed a reputation for building high-quality cultivators."
With the full lineup of Mantis cultivators, TillersDirect.com carries one of the broadest offerings of electric, 2-cycle and 4-cycle cultivators.
Tillers Direct is an online superstore exclusively specializing in cultivators, front-tine, mid-tine and rear-tine tillers, as well as accompanying attachments.
In addition to Mantis cultivators, TillersDirect.com carries cultivators and tillers from leading national brands such as Husqvarna, Troy-Bilt, Earthquake, Honda and many more.
Power Equipment Direct operates 10 niche online superstores. In addition to TillersDirect.com, the Bolingbrook, IL-based company operates AirCompressorsDirect, ChainSawsDirect, ElectricGeneratorsDirect, LogSplittersDirect, MowersDirect, PressureWashersDirect, SnowBlowersDirect, SumpPumpsDirect and WaterPumpsDirect.
###