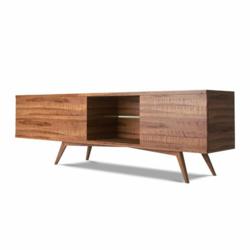 Los Angeles, CA (PRWEB) February 20, 2012
Boring credenzas are everywhere, and it can be tempting to buy the piece of furniture with the most storage, or the one that fits neatly into the available space, even if it's not quite the right piece. Josh Stellin, the director of Thrive Home Furnishings, agrees. "We often sacrifice style for functionality when it comes to credenzas and entertainment units," Stellin said. "We kept that as a focal point when designing these new credenzas."
Enter the Wallace credenza, the Aubrey credenza, and the Keenan credenza. They're three exciting new choices for a living or dining room. Each one is practical and functional, while still maintaining the stylish midcentury edge that Thrive Home Furnishings is known for. Each model is slightly different, making Thrive's new line of credenzas a versatile option for any style of decor. And, as always, these beautiful pieces are designed and manufactured right here in Los Angeles, with the quality one comes to expect from Thrive.
The Wallace credenza is a solid American walnut piece with clean and simple lines. This credenza is divided into three sections. The center section features open glass shelving to display dishes, knicknacks, souvenirs--anything that ought to be shown off to family members and guests alike. Another section features the same shelving, but hidden behind a door, and the third has adjustable walnut shelves for storing anything oddly-shaped, whether small or large.
The Aubrey credenza is also constructed of American walnut, with dark legs that complement the hand lacquer finished wood. This particular credenza is great for customers who need a lot of flexibility from their furniture--not only is this a beautiful piece, it's also incredibly versatile. All the shelving in the Aubrey credenza is adjustable walnut wood shelving, so customers can tailor the shelving to their storage needs. The shelving can easily be changed if necessary, and the sliding door makes it easy to show off or hide what's inside.
The Keenan credenza is a walnut and stainless steel piece with a look that is both classic and contemporary. Unlike the other two credenzas, which both feature open shelving, the Keenan credenza is fully enclosed. This makes it a great choice for storing things that customers don't want to put on display. For example, the Thrive website suggests that the Keenan credenza is perfect as an entertainment center. DVD players, video game consoles, and the unsightly tangle of cords can all be hidden from view.
Thrive Home Furnishings is a Los Angeles-based company whose aim is to create furniture inspired by classic, mid-century designs. All the products are designed and created in the United States with American-sourced materials, and Thrive prides themselves on both the quality and the style of their pieces. These three new credenzas are an exciting addition to a line of furniture that celebrates a golden era of design and craftsmanship, while remaining relevant and contemporary.
###