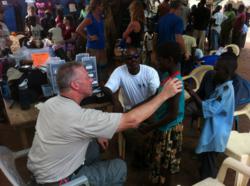 This hospital will provide much needed surgical and medical services to the people of Thomazeau, Haiti.
David Vanderpool, MD
Brentwood, TN (PRWEB) February 21, 2012
Mobile Medical Disaster Relief, http://MMDR.org, a Brentwood, TN based non profit organization, has purchased land and plans to break ground on a state of the art hospital outside of Port au Prince, Haiti. Dr. David Vanderpool, CEO of MMDR, says,"This hospital will provide much needed surgical and medical services to people in this area of Haiti who have no access to health care. We will be able to effectively treat the 180,000 inhabitants of the Thomazeau region, offering them surgical services, women and children's health services as well as preventative and nutritional assistance."
Mobile Medical Disaster Relief first entered Haiti 2 days after the earthquake on January 12, 2010. Initially providing medical care to tens of thousands of injured Haitians, MMDR has returned to Haiti bringing medical teams every month since the devastating earthquake. After establishing a permanent presence in Haiti in June of 2010, MMDR has provided medical care to 25,000 Haitians, tons of food to the hungry refugees and thousands of gallons of clean water per day to those in this cholera stricken country.
Mobile Medical Disaster Relief, a 501 (c) 3 non profit, operates in fourteen countries providing medical care, clean water, food and micro finance programs to those stricken by natural and man made disasters. Mobile Medical Disaster Relief is supported in large part by the profits from Dr. Vanderpool's practice, LAVE MD, http://lavemd.com.
###