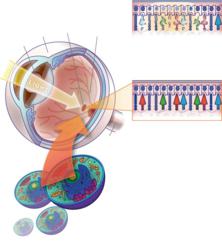 Mechanicsburg, Pennsylvania (PRWEB) February 17, 2012
In a month, where the Pennsylvania Association for the Blind is creating awareness on Age-Related Macular Degeneration (AMD,) drug researcher StemCells Inc. (STEM) received authorization from the U.S. Food and Drug Administration (FDA) to start a clinical trial on the potential treatment for dry age-related macular degeneration.
AMD is the leading cause of severe vision loss in people over the age of 55 and it roughly affects 2 million Americans and around 30 million people worldwide. AMD occurs when the small central portion of the retina, known as the macula, deteriorates. This disease, primarily associated with aging, gradually destroys sharp central vision needed for seeing objects clearly, and is used for common daily tasks, such as reading and driving.
Most patients with AMD have the "Dry Form" of AMD, which currently has no approved treatments. StemCells' trial will evaluate the safety and efficacy of the company's lead therapeutic product candidate, HuCNS-SC cells, as a treatment for dry AMD.
As the "baby boom" generation ages, the incidence of AMD is expected to increase dramatically, tripling by 2025. Stem cell transplantation may be viable as a future therapy for AMD, but in the mean time, the Pennsylvania Association for the Blind recommends that anyone over the age of 40 gets a comprehensive eye exam each year. Only through exploration and detection by an eye care professional can treatment begin that may be able to slow the progression and help save your vision.
Below is a list of known risk factors for AMD. For additional helpful information, visit http://www.pablind.org
Smoking and Second-hand smoke
Obesity
Race – Caucasians are much more likely to lose vision from AMD than African Americans
Gender – Of the more than 2 million Americans age 50 and older that have AMD, more than 1.3 million of those cases are women
Family History – Those who have immediate family members with AMD are at higher risk
Age – Although AMD can occur during middle age, studies show people over the age of 55 are at greater risk.
Contact: Katie Schock - PA Assn. f/t Blind Phone: 717-766-2020 Email: Katie(dot)schock(at)pablind.org
Beaver Co. Assn. f/t Blind, Berks Co. Assn. f/t Blind, Blair/Clearfield Assn. f/t Blind, Blind & Vision Rehabilitation Services of Pittsburgh, Bucks Co. Assn. f/t Blind, Butler Co. Assn. f/t Blind, Cambria Co. Assn. f/t Blind & Handicapped, Center f/t Blind & Visually Impaired, Central Susquehanna Sight Services, Center for Vision Loss, Chester Co. Assn. f/t Blind, Fayette Co. Assn. f/t Blind, ForSight Vision, Greater Wilkes-Barre Assn. f/t Blind, Hazleton Blind Assn., Indiana Co. Blind Assn., Keystone Blind Assn., Lackawanna Branch –PAB, Lawrence Co. Assn. f/t Blind, Montgomery Co. Assn. f/t Blind, North Central Sight Services, Nu Visions Center, South Central Blind Assn., Susquehanna Association f/t Blind & Vision Impaired, Tri-County Assn. f/t Blind, Venango Co. Assn. f/t Blind, The Sight Center of Northwest PA, Washington-Greene Assn. f/t Blind, Westmoreland Co. Blind Assn.
###