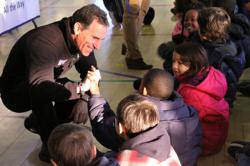 "Romain's care for children is truly genuine... he is undaunted because 'it's for the children,'" said Matthew Choi, a student journalist at Seoul American High School.
Arlington, VA (PRWEB) February 16, 2012
The USO-sponsored With You All the Way tour concluded the Pacific leg of their 2012 International Tour with visits to thousands of military children at Department of Defense Education Activity (DODEA) schools.
The With You All the Way program is led by award-winning author and illustrator, Trevor Romain. Romain uses humor to help children identify and cope with serious issues such as deployment, reintegration and when a parent returns home with invisible and visible wounds.
The 2012 International With You All the Way tour kicked off in January with presentations in Hawaii followed by Guam, Japan and Korea. This Pacific leg of the tour encompassed visits to 28 schools, reaching more than 14,000 military students.
"It is about being real and sharing stories. I mix in humor and encourage the children to express themselves," said Romain. "For some, just knowing that there are other kids out there going through the same thing as them can be so comforting."
"Romain's care for children seemed truly genuine. Speaking to me on the side, he told me that although a grueling travel schedule and repeat performances are inherently challenging, he is undaunted because 'it's for the children,'" said Matthew Choi, a student journalist at Seoul American High School. "And the cartoon videos interspersed within his presentation, and clearly geared towards children, presented very real and helpful lessons on bullying, homework, and other challenges facing kids as they grow up."
The presentations, tailored to children in length and content, open with kid friendly jokes followed by a showing of the video "With You All the Way! Dealing with Deployment" as well as clips from other Trevor Romain Company videos such as "Bullies Are A Pain In the Brain" and "Facing Fear Without Freaking Out". The presentations close with an interactive session of questions and answers.
"Stories that help young people recognize their unique talents are powerful. As a parent and career educator, I think the topics covered by Mr. Romain through his moving stories connects students to effective coping strategies for difficult situations--particularly the unique challenges of being a military child such as deployments and high mobility," said DODEA Pacific Superintendent for Curriculum, Instruction and Assessment Dr. Joyce Lutrey.
In the week following the presentations, children receive a "With You All the Way Military Family Empowerment Pack" containing videos and resources to help both children and parents. Romain has been working with the USO for the past five years- visiting approximately 21 military installations on seven USO tours.
"We are so excited to have Trevor work with the children in our region," said Carly Harris, USO Regional Vice President of Operations for the Pacific. "The families here have experienced multiple deployments and Trevor's presentations and tools provide the children with a way to express themselves and know that they are not alone."
The fall leg of the With You All the Way tour will include presentations to U.S. military children living in Germany and the Mediterranean.
Click here for photos from DODEA schools located on Guam- photo credit USO.
Click here for photos from Seoul American Elementary School- photo credit Jessika Capel and Kirsten Kwon
Click here for photos captured at Casey Elementary School, South Korea- photo credit Kevin Jackson, Public Affairs Officer, USAG-Red Cloud
Web:
USO
Department of Defense Education Activity
Trevor Romain Foundation
About the USO
The USO (United Service Organizations) lifts the spirits of America's troops and their families millions of times each year at hundreds of places worldwide. We provide a touch of home through centers at airports and military bases in the U.S. and abroad, top quality entertainment and innovative programs and services. We also provide critical support to those who need us most, including forward-deployed troops and their families, wounded warriors and their families and the families of the fallen.
The USO is a private, nonprofit organization, not a government agency. We rely on the generosity of our volunteers and donors. In addition to individual donors and corporate sponsors, the USO is supported by President's Circle Partners: American Airlines, Kangaroo Express, Kroger, Northrop Grumman Corporation and TriWest Healthcare Alliance and Worldwide Strategic Partners: AT&T, Inc., BAE Systems, The Boeing Company, Clear Channel Communications, The Coca-Cola Company, Lockheed Martin, Microsoft Corporation and Procter & Gamble. We are also supported through the United Way and Combined Federal Campaign (CFC-11381). To join us in this patriotic mission, and to learn more about the USO, please visit uso.org.
About the Trevor Romain Foundation
The Trevor Romain Foundation is a nonprofit organization creating resources to support and comfort military children and their families when challenged by adversity.
Contact:
Andrea Sok
USO Communications
703-579-0858
asok(at)uso(dot)org
# # #