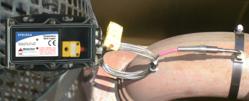 Contoocook, NH (PRWEB) February 21, 2012
MadgeTech's ETR101A, an exhaust temperature profiler, has been enhanced with a trigger settings function, which enables the logger to start recording data when it exceeds a user-programmable temperature level. The use of trigger settings ensures that the logger only records during the required time period, eliminating the acquisition of unnecessary data.
With new federal regulations being enforced, many states are mandating that on road and off road diesel exhaust vehicles be retrofit with a diesel particulate filter (DPF). Chapter 14 of the California Code of Regulations, Title 13, Division 3, requires that exhaust and gas temperatures be measured for at least 24 hours at a 5 second reading rate, prior to DPF installation. The measuring device must also have an accuracy of +/-4.0°C or better.
The ETR101A includes all components needed to measure and record exhaust temperature as well as software to analyze data and create reports. It is an economical and efficient solution for complying with the diesel emissions regulations in California, as well as other states. The system provides an accuracy of +/-2.0°C and with a memory capacity of 500,000 readings, it can record for 29 days at a 5 second reading rate.
In addition to the new trigger settings function, the ETR101A also features a 10 year battery life, a multiple start/stop function, ultra-high speed download capability, battery life indicator, optional password protection and programmable high-low alarms.
The ETR101A is priced at $329.00, and includes a TC101A data logger, water resistant enclosure, Type K thermocouple, interface cable and MadgeTech's standard data logger software. For more information on the ETR101A please call (603) 456-2011, e-mail sales(at)madgetech(dot)com or visit our website at http://www.madgetech.com.
###