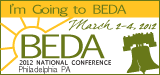 Keynote speaker Dr. Rebecca Puhl of Yale University's Rudd Center on Food Policy and Obesity will present "Weight Bias and Discrimination: Nature, Extent, and Necessary Solutions."
Severna Park, MD (PRWEB) February 17, 2012
The Binge Eating Disorder Association (BEDA) will hold its third annual conference in Philadelphia, PA, March 2-4, 2012, at the Hyatt Regency at Penn's Landing. Eating disorder experts will present on a variety of topics, covering recent research and the latest evidence-based treatment methods for treatment professionals and for individuals and families with BED or in recovery from BED.
"More people are learning about binge eating disorder and want to know how to find treatment and support," says Chevese Turner, BEDA founder and chief executive officer. "As data from recent studies are being published on the clinical side, clinicians are also seeking the most up-to-date information on trends and treatments. With the inclusion of BED in the DSM-V next year, we want to ensure we educate everyone who needs to understand what the disorder is, the biological and environmental factors that play a role, and the treatment approaches available to address the overarching issues and subtle nuances of this complex disorder."
"We are thrilled to be a part of BEDA's groundbreaking 2012 conference," says ANAD executive director Laura Discipio. "Our organizations share many of the same goals, and ANAD is looking forward to reaching out to BEDA conference attendees to further our mission. Eating disorders are serious and deadly. By combining our voices, ANAD and BEDA hope to be heard loud and clear."
Keynote speaker Dr. Rebecca Puhl of Yale University's Rudd Center on Food Policy and Obesity will present "Weight Bias and Discrimination: Nature, Extent, and Necessary Solutions."
"With the current public focus on obesity, the BEDA conference will also bring the difficult issue of weight stigma to the forefront to illuminate what actually may be contributing to eating disorders, despite seemingly well-intentioned but severely misguided efforts to reverse current trends," says Turner.
This year's conference topics delve into the following weight, body, and eating disorder issues: What is BED (compulsive overeating/food addiction/emotional overeating)? Who gets it? How is it treated? weight stigma, discrimination, and size bullying; clinician body size and impact on treatment; impact of shame and trauma; pursuing weight loss; bariatric surgery; exploring food addiction; neurochemistry of a binge; impulse regulation; medication options; and spirituality and recovery.
BEDA is the national organization focused on increasing prevention, diagnosis and treatment of BED and associated weight stigma. Through outreach, education and resources, BEDA is committed to facilitating awareness, excellence in care, and recovery for those who live with and those who treat binge eating disorder and its associated conditions.
The National Association of Anorexia Nervosa and Associated Disorders (ANAD) has advocated for the development of healthy attitudes, bodies, and behaviors since 1976. ANAD promotes eating disorder awareness, prevention and recovery through supporting, educating, and connecting individuals, families, and professionals.
###