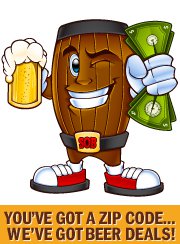 Fat Tuesday Beer Dinners are one of America's most sacred and time-honored traditions
Houston, TX (PRWEB) February 20, 2012
"Fat Tuesday Beer Dinners are one of America's most sacred and time-honored traditions," says SaveOnBrew.com's Greg Thibodeaux. "Generally, a Fat Tuesday Beer Dinner consists of five courses. For instance, Brewmaster's famous Fat Tuesday Beer Dinner includes corn meal fried oysters paired with Voodoo Lager, savory duck confit bread pudding paired with Roggenbier, blackened diver sea scallops paired with Honey Leaf IPA, buttermilk pan fried rabbit loin paired with Bridge Street Bock, and lemon pudding cake paired with Sasquatch American Barleywine. It doesn't get any fatter than that. Fat Tuesday is a must for any true beer connoisseur."
But, SaveOnBrew.com asks: why pay $70 to attend a Brewmaster Fat Tuesday celebration when one can host a homey pot luck dinner for a small pittance? "To plan your own Fat Tuesday dinner, you want to think Cajun or Creole, since historically, the word 'Mardi Gras' literally translates to mean 'Fat Tuesday' and marks the end of the New Orleans celebration," Thibodeaux explains.
In the south, the Bayou Teche Brewing Company is a Brewers Association favorite to go along with Creole and Cajun food, as these beers were developed specifically to compliment this type of cuisine. LA-31 Bière Pâle goes alongside red beans, jambalaya, crawfish, gumbo and shrimp Creole rather nicely, whereas their Boucanèe pairs with heart barbecue, sausage and grilled hamburgers. Their dark beer goes well with a steak or spicy blackened dish and the sweet Passionné wheat makes a good dessert accompaniment.
For people who may not have access to authentic Louisiana beer, there are other options, says Thibodeaux. "A nice, Strong Golden Ale / Abbey Trippel like Explorateur or St. Andre will go really well with crab cakes and spicy Cajun dishes. India Pale Ales, Amber / Red Ales, Oatmeal Stouts, Marzens, Bock beers, and Schwarzbiers all pair up with spicy foods nicely," he explains.
If this all sounds like mumbo-jumbo, Thibodeaux recommends memorizing the following rule: for sweet meats like chicken or pork, go for a malty lager; Red game like rabbit, lamb or beef pair better with light, fruity ales; barbecue goes well with dark stouts and porters; and spicy foods can go with a variety of light, mid and dark beers for different effects.
To find the cheapest beer prices, consumers are invited to stop by SaveOnBrew.com to freely search beer sales and offers in their area. While people are there, they can also learn how to cure a hangover in the "Resources" section and get a chuckle out of the quirky posts on the Cheap Beer Blog. Fat Tuesday may bust one's pants buttons, but it doesn't have to break the bank. Visit http://www.SaveOnBrew.com for details.
About SaveOnBrew.Com: Founded in 2010 to help thirsty beer drinkers across the United States find the lowest advertised prices for one of the world's most popular beverages.
###