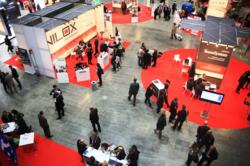 Lower visitor numbers means less prospective customers...
Basingstoke, UK (PRWEB UK) 18 February 2012
Exhibition Stand Designers have been finding the decline of the events industry very difficult over the last decade; with over 400 stand designers, competition is high for the reducing pool of business. Stand designers are just one of many businesses that have been hit by the reduction of the events and exhibition sector, hundreds of businesses (from hotels, food companies, audio visual companies etc.) have seen customer numbers shrink due to events being cancelled.
As the internet has grown more popular, businesses are opting to keep their sales people in the office reviewing interactive websites rather than sending them to an event (as a day out to meet their friends and pick up promotional gifts) incurring travel costs, food costs, hotel bills etc.
From the exhibitor perspective, lower visitor numbers means less prospective customers; so either a smaller stand and smaller sales team (to reduce costs of the event) or not attending the event and putting the marketing budget into PR or another form of marketing that may yield better results.
The market research business 'Plimsoll' has done some research into the sector (in particular the number of firms in the sector making a loss has dropped) and feel there are signs of a turn around. As fewer businesses in the events sector are making annual losses, this must be a sign that there is a recovery due.
Marketing Quotes commented that the events industry has been reducing for over a decade now, possibly due to the growing number of businesses using internet marketing to showcase themselves (for things such as new products rather than doing a product launch at an event). International events are still very popular for large businesses, however smaller regional events and exhibitions have declined in a big way.
A US exhibition resource (CER - Center for Exhibition Industry Research) did announce in 2010 that that the global exhibition industry has reduced by 12.5% since 2009. However a 2010 census against one taken a decade earlier in 2000 did show little overall change (despite the global economic downturn).
Marketing Quotes added that indeed large or international events may well have grown, offsetting the smaller or regional events that have been forced to close.
About Marketing Quotes - Marketing Quotes is a free service to UK businesses to help them get free advice and quotes from local marketing agencies. Marketing Quotes works with a wide variety of businesses in the events and exhibition sector in order to help businesses attending events save time and money by finding cost effective suppliers.
###