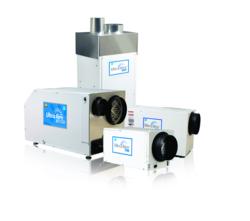 Madison, Wis. (PRWEB) February 18, 2012
Ultra-Aire, a leading manufacturer of whole house ventilating dehumidifiers, has recently received Green Approval for its full-line of products by the National Association of Home Builders (NAHB) Research Center. Green Approved Products can be used by builders to earn points toward a National Green Building Certification under the NAHB's National Green Building Standard™. One Ultra-Aire whole house ventilating dehumidifier can qualify for up to 19 points for moisture control, ventilation and high efficiency air filtration.
Ultra-Aire earned Green Approved designation for the following practices:

902.2.1 Whole building ventilation systems (8 points)
902.2.3 MERV filters 8 or greater on central air systems (3 points)
903.7 In climate zones 1A, 2A, 3A, 4A and 5A, equipment is installed to maintain relative humidity (RH) at or below 60 percent (8 points)
Installed by HVAC professionals to provide the ultimate in comfort, indoor air quality and property protection, Ultra-Aire units are designed to provide effective moisture control, fresh air ventilation and high efficiency air filtration. Single units are available for conditioning areas ranging up to 5,000 square feet. Multiple units are easily combined for larger areas or where zoning requires individual units to be tied to each A/C system. They can also be installed independently where no duct system is available. Most Ultra-Aire whole-house ventilating dehumidifiers meet or exceed ENERGY STAR® qualifications. High efficiency MERV-11 filters (optional MERV 14) are standard on every Ultra-Aire unit to remove most airborne allergens and protect the HVAC system.
More information on Green Approved products from the NAHB Research Center can be found on http://www.GreenApprovedProducts.com. For more information on Ultra-Aire's complete product line, visit http://www.Ultra-Aire.com or call (800) 533-7533.
###