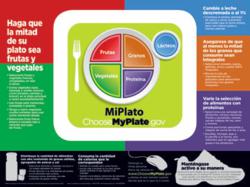 We are thrilled that Goya Foods and other Latino organizations are joining us in supporting the USDA's MiPlato campaign
Owatonna, MN (PRWEB) February 16, 2012
Nearly two out of five children in the Hispanic community are overweight or obese, as compared to one in three kids overall – a fact First Lady Michelle Obama pointed out last month in an address promoting MiPlato, the Spanish-language version of the MyPlate nutrition guidelines. And according to the 2010 U.S. Census, more than 35 million U.S. residents speak Spanish at home. These statistics point to the need for Spanish-language materials on nutrition education, a need that Minnesota-based Learning ZoneXpress has been filling since 2005. In fact, in a partnership with the USDA, Learning ZoneXpress was the first company in the United States to offer MiPlato posters. The company also doubled its Spanish-language offerings in 2011.
"Learning ZoneXpress strives to educate all children, families and communities on eating well," says Melanie Nelson, founder and CEO of Learning ZoneXpress, the leading producer of health and nutrition education materials in the U.S. "We are proud that our Spanish-language versions of MyPlate and other tools are able to meet a growing need for relevant information about nutrition for the Hispanic community."
Learning ZoneXpress carries more than 50 Spanish-language products that are perfect for the classroom, cafeteria, medical office and more, including:

Nutrition activity books for kids ($9.95 set of 12)
Posters ($14.95)
Tear-off sheets and handouts ($9.95)
The company also provides nutrition education tools to Spanish-speaking communities outside of the U.S. The Chilean health organization, Educacion Popular En Salud, recently partnered with Learning ZoneXpress to distribute MiPlato products, and the company looks forward to strong growth throughout Central and South America.
The English-language MyPlate products from Learning ZoneXpress are also in high demand. In the time since LZX partnered with the USDA just over half a year ago – the MyPlate line of products from Learning ZoneXpress have proven to be wildly popular and effective methods for relaying the new guidelines to people of all ages. Currently, seven out of the top 10 best-selling products from Learning ZoneXpress are MyPlate items.
The USDA's MyPlate nutrition guidelines recommend changes such as making half your plate fruit and vegetables, varying your protein food choices, making at least half your grains whole grains, switching to skim or 1% milk and cutting back on foods high in solid fats, added sugars and salt.
In late January, Michelle Obama spoke to the need for MyPlate resources in the Hispanic population in an announcement that Goya Foods, the largest Hispanic-owned U.S. food company, would also partner with the USDA to promote MiPlato.
"We are thrilled that Goya Foods and other Latino organizations are joining us in supporting the USDA's MiPlato campaign," Nelson says. "It's crucial that the Hispanic community has access to nutrition education, and the more organizations behind the effort, the better."
Learning ZoneXpress's MyPlate, MiPlato and other educational products range from $4.95 - $499.95 and are available at LearningZoneXpress.com.
Learning ZoneXpress, based in Owatonna, Minn., is a leading source of "edu-taining" and award-winning teaching tools. Its mission is to help improve the health and vitality of children by providing relevant, creative and affordable learning tools about life skills, healthy behaviors and nutrition. Learning ZoneXpress offers a wide variety of learning aids and affordable education DVDs, posters, games, lesson plans, and PowerPoint presentations.
For more information about Learning ZoneXpress products, visit http://www.learningzonexpress.com or call Toni Gnasdoskey at 888-455-7003.
###