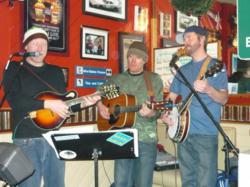 Vail, CO (PRWEB) February 17, 2012
Nick Steingart tells Alpine Tavern's Scott Kneeland, "Music is the most important thing to me. When I wake up in the morning to when I go to sleep at night, I dream about music too. I feel lucky to have a special gift that brings me joy and, I hope to others as well. I feel the need to pass on the music. I love all different styles; Classical, Jazz, Bluegrass, Rock. I play many different instruments, but my true love is the mandolin."
Nick's feelings about music are best described by an ancient philosopher, "I would teach children music, physics and philosophy; but most importantly music, for in the patterns of music and all the arts are the keys of learning." ~Plato
The best of the best is when Nick teams up with Bob Masters-Guitar/Vocals, and Patrick Pagget-Banjo/Vocals and Skin the Rabbit comes on stage. Nick, Bob, and Patrick met during the winter of 2004 and quickly developed a bluegrass band with a twist, Skin the Rabbit. Which is a mix of eclectic covers and foot stomping originals. Sometimes it is an acoustic trio, other times it is a six piece with drums and sax. Guests will love the original musical treats including Salty Dog Blues, How My Girls Can Love, Sally Goodin' and Little Maggie.
The Alpine Tavern is home to Vail's most experienced and creative chefs including Paolo Busi, executive Chef. Paolo's unique cuisine draws on his training and experiences around the world. Alpine Tavern's dishes are created from a symphony of ingredients and spices from America, Europe, Latin America, Asia and Scandinavia. Just as a composer combines the musical instruments and personalities of the musicians to create unique musical experience, Paolo and his team produce unique global dishes from foods, spices, and sauces from the global marketplace. Truly a must-do experience while in Vail…
Check out the Alpine Tavern's new selections and weekly music lineup in SneakPEAK Vail's event calendar.
The Alpine Tavern is not just Vail…..it's the best of Vail….in East Vail 4695 Racquet Club Drive in East Vail. To make a reservations at the Alpine Tavern call 970-476-7888 or visit http://www.alpinetavernvail.com for more information.
###