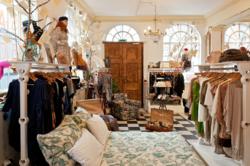 London (PRWEB UK) 17 February 2012
Wimdu.co.uk, the social travel accommodation site, is offering shopaholics the ultimate treat with the chance to sleep overnight in a boutique shop on the 29th February 2012.
This leap year, the world will have an extra 24 hours and Wimdu.co.uk are allowing someone to spend it living a dream, sleeping amongst clothes at Traffic People's flagship store in the heart of London's very fashionable East end.
Located in the beautiful Spitalfields, the flagship store will be closed to the public from 7pm – 10am for a private shopping experience and overnight stay. The lucky female will be surrounded by opulent fabrics and decadent lace, velvet and brocade which make up the romantic feel of the store. The overnight stay costs £200, which includes £150 to spend in store and can be rented through Wimdu.co.uk: https://www.wimdu.co.uk/offers/C6PBP0ML?
Alternatively, for those who want to live the life of a top model, Wimdu has a selection of the most fashionable properties in London, used by IMG models this London Fashion Week.
The city's most fashionable haunts include a super trendy Shoreditch warehouse conversion which can be rented for £357 a night during fashion week: https://www.wimdu.co.uk/offers/76FXO1L6.
Or try this cosy canal side property with a quirky layout for £320 a night: https://www.wimdu.co.uk/offers/9JC6HR0P?
Lastly, in the heart of Notting Hill lies this traditional London townhouse on the outside with the contemporary feel of fashion week on the inside for £245 a night: https://www.wimdu.co.uk/offers/5DZ31SOD
About Wimdu
Wimdu is a social accommodation community that brings together travellers and hosts from around the world to enable consumers worldwide to travel like a local.
Wimdu enables hosts to generate additional income on their spare rooms while guests can search for a room and a rate that suits them. The site lists a range of over 35,000 properties internationally across over 50 countries with everything from boltholes in Berlin to English castles.
Wimdu was founded in 2011 by serial entrepreneurs Hinrich Dreiling and Arne Bleckwenn who wanted to harness social media to transform the way consumers are travelling worldwide. Wimdu's Managing Director in the UK, Michael Riegel manages a team of over 30 and lists over 3000 properties nationwide.
###