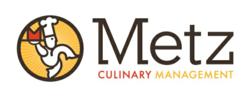 Dallas, PA (PRWEB) February 16, 2012
Metz Culinary Management, a leading provider of dining management services, has joined the Meatless Monday initiative, a multinational effort supported by the Johns Hopkins School of Public Health to promote environmental sustainability, animal welfare and human health. Metz is promoting Meatless Monday to its 135 clients in business, industry, healthcare facilities, school districts, colleges and universities. Twelve Metz Culinary Management accounts are already participating.
"Eliminating meat from your diet once a week has health and environmental benefits," said Kathy Gonzalez, Vice President of Nutrition Education and Sustainability at Metz Culinary Management. "Meatless Mondays can improve health by reducing the risk of preventable conditions like cancer, heart disease, diabetes and obesity. Opting for healthier meat-free alternative can reduce your carbon footprint by minimizing water usage and reducing fossil fuel dependence."
Meatless Monday, the non-profit initiative of The Monday Campaigns, aims to reduce meat consumption by 15% in order to improve personal health and planetary sustainability. Research from the group shows that people who eat fewer animal products have lower rates of weight gain, dementia, arthritis, high blood pressure, kidney disease and other health problems.
At Montgomery School in Chester Springs, Pa., Meatless Monday is already a big hit. For its first Meatless Monday in February, the school served Spaghetti with Marinara and Garlic Bread, Tuscan Blend Vegetables and Strawberries for dessert.
"The students all loved it and were wondering when we are going to run Meatless Monday again," said Steve Schappert, Metz Culinary Management General Manager at Montgomery School. "I told them 'every Monday this month' and if it continues to be a hit we will serve Meatless Monday for the remainder of the school year. This concept shows how a company like Metz Culinary Management can change the way people eat and open the door for new and inventive ideas."
Wyoming Seminary College Preparatory School in Kingston, Pa. is serving its first Meatless Monday on February 20th. The school is promoting the menu this week with information handouts and posters and will serve its students and faculty a meal that consists of Three Bean Vegetable Chili with Sticky Rice and Corn Muffins, Grilled Cheese, Hummus with Grilled Pitas, Cucumber Tuna Salad, Strawberry Fluff and Peanut Butter and a made-to-order Orange Julius Dessert Station.
"It's important to draw awareness to healthy eating habits," said Kathy Gonzalez. "What happens at school or at work can have an impact on household behavior."
Famous Meatless Monday participants include Oprah Winfrey, Sir Paul McCartney, Gwyneth Paltrow, Russell Simmons, Simon Cowell and Al Gore. For more information, check out The Humane Society of the United States' Guide to Meat-Free Meals.
About Metz Culinary Management
Metz Culinary Management provides dining and environmental management services for clients in a variety of settings, including hospitals, public and independent schools, colleges, long-term care facilities, corporate offices and manufacturing facilities. Metz is a family-driven company that collaborates with its clients to deliver restaurant-inspired hospitality to each and every guest. In 2011, Food Management Magazine named Metz one of the Top 20 Management Companies in the U.S. and one of the Top 5 Firms to Watch. For more information on Metz Culinary Management, visit http://www.metzculinary.com
# # #