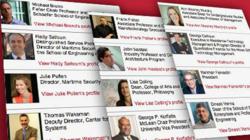 Stevens Experts is a way we can build on our engagement with the media, offering them a valuable resource while introducing the many faces of Stevens.
Hoboken, N.J. (PRWEB) February 16, 2012
Journalists have better and faster access to expert sources at Stevens Institute of Technology with the launch of Stevens Experts, an online directory of faculty and staff dedicated to help the news media identify and connect with appropriate sources for their stories.
The internationally renowned Stevens community has extensive knowledge and expertise in a broad array of newsworthy areas, including technology, engineering, computer science, business, finance, economics, management, innovation, healthcare, medicine, government, the military, public policy, energy, the environment and much more.
The database provides members of the media with an overview of trending topics that selected experts can discuss, as well as their key talking points, relevant experience and related publications and research.
Reporters, editors, producers, bookers and researchers can browse for experts by a variety of criteria, making their search for sources quicker, simpler and more precise. In some cases, links to previous media participation are included on an expert's profile page.
Stevens' strategic location, minutes from New York City and New Jersey studios and media headquarters, adds even more value and convenience to the news media.
"Stevens Experts is a way we can build on our engagement with the media, offering them a valuable resource while introducing the many faces of Stevens," said Michael Schinelli, assistant vice president for marketing and communications. "We wanted the pages to go beyond bios, so we have, in many cases, integrated video and audio excerpts to give journalists a sense of how an expert performs as on-air talent."
The Office of News and Media Relations at Stevens is dedicated to bringing media attention and outside exposure to Stevens and its many thought leaders. In the past year, it has significantly raised the profile of the university internationally, nationally and regionally by securing close to 200 media placements, including stories in The New York Times, The Wall Street Journal, CNET, "PBS NewsHour," "Marketplace," ASEE; First Bell and many more.
"We've launched the site with 82 profiles, but with hundreds of faculty and staff members at Stevens, this is just the beginning," said Danielle Woodruffe, director of news and media relations. "As we continue to add new profiles to Stevens Experts, the site will grow as a reference not just for journalists, but prospective students and parents, current students, friends of Stevens and the entire campus community."
Stevens faculty who are interested in and available to respond to media inquiries on an ongoing basis are invited to add their profiles to Stevens Experts. Please contact experts(at)stevens(dot)edu for more information.
About Stevens Institute of Technology
Founded in 1870, Stevens Institute of Technology, The Innovation University™, lives at the intersection of industry, academics and research. The University's students, faculty and partners leverage their collective real-world experience and culture of innovation, research and entrepreneurship to confront global challenges in engineering, science, systems and technology management.
Based in Hoboken, N.J. and with a location in Washington, D.C., Stevens offers baccalaureate, master's, certificates and doctoral degrees in engineering, the sciences and management, in addition to baccalaureate degrees in business and liberal arts. Stevens has been recognized by both the US Department of Defense and the Department of Homeland Security as a National Center of Excellence in the areas of systems engineering and port security research. The University has a total enrollment of more than 2,350 undergraduate and 3,600 graduate students with almost 450 faculty. Stevens' graduate programs have attracted international participation from China, India, Southeast Asia, Europe and Latin America as well as strategic partnerships with industry leaders, governments and other universities around the world. Additional information may be obtained at http://www.stevens.edu and http://www.stevens.edu/news.
###