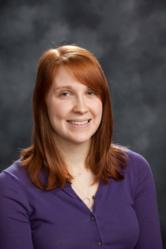 Bridgewater, NJ (PRWEB) February 16, 2012
R&J Public Relations, LLC, a leading brand-building public relations agency based in Bridgewater, N.J., announces the promotion of Leann Moczydlowski to Account Executive. In her new position, she will play a vital role in the development and execution of strategic public relations programs designed to meet and exceed the needs of R&J's growing business-to-business client base. Moczydlowski joined the agency in February 2011 as an Account Coordinator.
"Leann has proven to be a very effective and thoughtful practitioner, and has grown within her position throughout the course of her year here at R&J," said John Lonsdorf, President of R&J. "Her communication skills continue to impress, and she has shown herself to be more than just a terrific tactician, but also a strategic resource for her clients. She has already effectively guided a number of important projects and initiatives through the agency, and we are supremely confident that her growth as a professional will continue."
Moczydlowski, a South Plainfield, N.J. resident, graduated summa cum laude from Monmouth University in January 2011 with a Bachelor's of Arts degree in English and a minor in Public Relations. A member of Sigma Tau Delta, the International English Honor Society, she received recognition upon graduation for having the highest GPA within her department.
About R&J Public Relations
R&J Public Relations, LLC is a full-service public relations firm that consistently achieves superior results for a strong and diverse client base that ranges from divisions of large, multi-national conglomerates to regional market leaders. Based in Bridgewater, N.J., with an office in Manhattan, the company has become one of the most respected, admired and prestigious PR agencies in the Greater New York/New Jersey region. R&J has earned numerous awards for its strategic communications programs and was named a "Top Place to Work in PR" by PR News in 2010. For more information on R&J Public Relations, please visit http://www.randjpr.com.
###