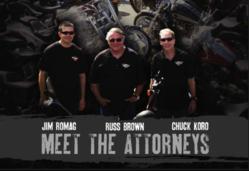 Sturgis, South Dakota (PRWEB) February 17, 2012
Sturgis, South Dakota, home of the largest motorcycle event in the world, will be celebrating its 72nd anniversary this summer and Russ Brown Motorcycle Attorneys will be there as the official attorney sponsors.
The Sturgis Motorcycle Rally is the rally of legend. Attending in person is high on the bucket list of motorcyclists globally for very good reason. There is simply nothing like the Sturgis Motorcycle Rally. Is it the beautiful rides around the Badlands and Spearfish? The feeling of the Ol' West in Deadwood? The unpredictable weather? The concerts? Maybe it's the overall sense of freedom that is felt here amongst motorcyclists that keep riders coming back year after year. Regardless of the reasons, it is indisputable that the Sturgis Motorcycle Rally is "the" rally to attend and that is evident in the thousands of motorcyclists that come back year after year. Motorcycle Lawyer Russ Brown is one of those riders, having attended the Sturgis Motorcycle Rally for more than thirty years himself.
Russ Brown Motorcycle Attorneys will have two major locations in the town of Sturgis during the 2012 rally. One will be on Main Street and the other major location will be on Lazelle Street. Motorcycle enthusiasts can sign up for BAM, Free Breakdown and Legal Assistance for Motorcyclists, at either location or speak to one of the attorneys about any legal issues they may have. Russ Brown Motorcycle Attorneys are proud to sponsor the BAM program which helps hundreds of stranded motorcyclists a year and provides free legal advice to motorcyclists.
For more information on the City of Sturgis, Sturgis Motorcycle Rally, or Russ Brown Motorcycle Attorneys, please visit http://www.sturgismotorcyclerally.com or http://www.russbrown.com.
###