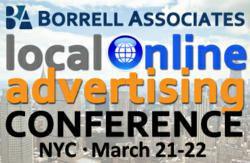 no one media outlet can attain the critical mass necessary to deliver local news...
Washington, D.C. (PRWEB) February 16, 2012
Media analyst Bob Garfield has put a voice behind the industry rumblings about hyperlocal news ventures. As standalone business operations, hyperlocal news "just doesn't make for a sustainable financial model," Garfield said in recent video interviews with Borrell Associates.
Garfield, author of "The Chaos Scenario," and host of NPR's "On the Media," thinks hyperlocal news coverage is doomed because of the incredible fragmentation and its downward pressure on advertising prices. In the first of two YouTube interviews with Borrell Associates Executive Vice President Peter Conti, Garfield says he thinks that the winner in every market will likely be the entity that forms strategic relationships for content and revenue in its market. Garfield stresses that, paradoxically, this vast fragmentation we see, could lead into consolidation in order to achieve success.
In Garfield's second YouTube interview with Conti, he speaks about the problems of monetizing premium content. With the continuing fragmentation of audience, a viable business model appears to be more difficult to come by than ever and Garfield adds, "TV and cable are still making money… but not for long."
Garfield is adamant that no one outlet can attain the critical mass necessary to deliver the local news professionally and profitably in the future. Garfield believes that the monkey-wrench in the local market revenue gearbox will be the pressure from unprofitable hyperlocal fragmentation. With Borrell Associates forecasting more than $18 billion to be spent this year in local digital advertising, the disruption, innovation and chaos still unfolding in the hyperlocal space could make for some strange bedfellows.
Garfield will be the keynote speaker at the Borrell Associates' Third Annual Local Online Advertising Conference, March 21-22, in NYC at the Grand Hyatt. The conference is the largest gathering of local online media professionals in the country. It focuses on the revenue aspects of local media sites and has almost 50 speakers sharing their stories of what works and what does not at the local level. The majority of speakers have been selected from local digital operations that are beginning to show significant revenue. Past keynote speakers at Borrell Associates' conferences have included some of the leading minds in technology disruption and its effects on media, such as Jeff Jarvis, Clay Christensen, Clark Gilbert, Chuck Martin and Dave Morgan.
About Borrell Associates:
Borrell Associates is an advertising research and consulting firm that assists local media in maximizing their digital ad revenue through products such as the local ad-spending Compass Data Report, which details local ad-spending patterns for 100 businesses by 13 media. Borrell Associates issues monthly industry papers covering local ad-spending online and in mobile. In 2011, Borrell Associates acquired Belden Interactive, a leading survey research firm studying ad-spending intentions at the local-level by SMBs.
# # #