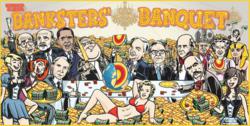 Too Big to Fail - Too Big to Jail?
Camas, Washington (PRWEB) February 21, 2012
Understanding the global debt crisis is just one aspect of The Banksters' Banquet board game, which is starting to go viral as friends spread the word about how the world really works. In the Supreme Court of Public Opinion nothing is more powerful than an idea whose time has come.
Follow the money, and players soon learn who is pushing the levers and pulling the strings that make world leaders dance in a propaganda puppet show of monetary magic. Former bank presidents, elected officials and leaders of industry provide historical quotes that challenge the status quo and serve to explain why the Occupy Movement is just getting started.
"It is well enough that the people of our nation do not understand our banking and money system. For if they did, I believe there would be a revolution before tomorrow morning." - Henry Ford, founder of Ford Motor Co.
Role-playing as financial gangsters helps the 99% understand the motives and mindset of the invisible elite. The ultimate goal is financial control and a monopoly on currency creation for all major industrialized nations.
Confusing coincidences are exposed as clever strategies, designed to steal the wealth of the working class. Hidden secrets shaping modern society are revealed during a face-to-face contest for wealth and power.
It has been said that Dr. Ron Paul is the only candidate who can cure the cancer eating away at the heart of our great nation.
The creators of The Banksters' Banquet board game are donating 10% of sales to support Ron Paul's Presidential campaign. He appears to be the one candidate whose platform of sound money and personal liberty can save America from financial and moral ruin. The Fed's quantitative easing programs have increased the national debt by trillions of dollars.
"The Federal Reserve has caused every single boom and bust that has occurred in this country since the bank's creation in 1913." - Congressman Ron Paul, October 20, 2011
Alive Games is a new company based in the northwest US with a primary focus on educational products. Traditional board games bring people together in a relaxed setting to share a laugh and occasionally learn something new about each other and the society in which they live. This is the goal of The Banksters' Banquet – a thinking game, wrapped in a classic work of cartoon art.
###