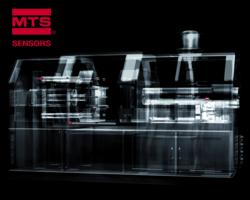 "We will be showcasing both longstanding and recently introduced linear positioning sensors to meet a wide range of applications and industry conditions."
- Matt Hankinson, Technical Marketing Manager, MTS Sensors Division

(PRWEB) February 17, 2012
MTS Systems Corp., Sensors Division, will be presenting a wide range of Temposonics® sensors at the International Plastics Showcase (NPE) 2012 in Orlando, April 1-5 (booth # 4775). MTS Sensors produces magnetostrictive linear position sensors for use in many different plastics manufacturing applications, including blow molding and injection molding machines.
"The Society of the Plastics Industry recently announced that NPE 2012 will mark 'The Return of the Machines,'" Matt Hankinson, product marketing manager with MTS Sensors, explained. "We are excited to be a part of that vision and to reinforce the value that our sensors bring to plastic molding equipment. At NPE, we will be showcasing both longstanding and recently introduced linear positioning sensors to meet a wide range of applications and industry conditions."
Temposonics® sensors are typically used in three aspects on an injection molding machine: injector controls, ejector control and mold closure. MTS Sensor products on display at NPE will include sensors from the following product families:

R-Series Temposonics® Sensors, designed for applications where a high level of accuracy is required.
E-Series Temposonics® Sensors, designed for low-cost applications where basic feedback is needed.
Recent innovations on display will include: the new Ethernet/IP™ output, which is used with the R-Series product line to offer high performance with the reduced cabling and lower overall system cost provided by Industrial Ethernet, as well as new housing options.
Visitors are invited to visit the MTS Sensor booth number 4775 any day of the event to learn more.
For more information, please contact: MTS Systems Corp, Sensors Division, 3001 Sheldon Drive, Cary, NC 27513. Phone: (919) 677-0100. E-mail: sensorsinfo(at)mts(dot)com or visit their web site at http://www.mtssensors.com.
MTS Sensors, a division of MTS Systems Corp., is the global leader in the development and production of magnetostrictive linear-position and liquid-level sensors. The Sensors Division is continually developing new ways to apply magnetostrictive sensing technology to solve critical applications in a variety of markets around the world. With facilities in the U.S., Germany, Japan and China, MTS Sensors Division is an ISO 9001-2008 certified supplier committed to providing worldwide innovative sensing solutions.
###