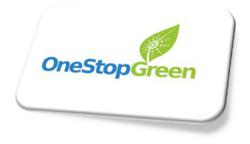 "The upgraded website makes adopting a Greener Lifestyle even easier with the powerful array of tools and wide variety of products available through One Stop Green," says One Stop Green CEO Sohail Hassan.
Houston, Texas (PRWEB) February 16, 2012
In an effort to promote environmentally friendly actions worldwide, One Stop Green, LLC is proud to announce the release of its new e-commerce website for Green Living products, application tools, and tips at http://www.OneStopGreen.com
The website has been rebuilt to better educate the public on how they can live greener, more environmentally friendly lives. The new site features various product solutions within the categories of solar, wind, water, lighting, green building, and green living products and One Stop Green continuously adds many new and exciting products on the cutting edge of Green Living technology.
The new website also includes many useful tools for consumers such as the Create and Manage your Own Green Project section, an Energy Savings Calculator, and an Incentives Bank to help keep consumers informed about all the latest information regarding federal and state tax incentives for energy-efficient products, services, and technologies.
Each section features products available from One Stop Green to help customers reduce costs, improve efficiency, and decrease their overall carbon footprint. Within each product category, green tips appear to help with ideas and provide simple solutions for projects in and around the home.
The new website also features an "Ask an Expert" live chat help with One Stop Green's own Green Professionals. Users with questions about products are able to instantly contact a member of the One Stop Green Team at the click of a button.
Going 'green' is no longer a choice, it's our responsibility, that's why it's so important to try and do the small things that can help change the outlook of the planet - and this is essentially the purpose of One Stop Green's new e-commerce website; to help consumers make more educated decisions that will increase the efficiency of their home or business. They believe even the little things like recycling or using less water can help the environment out in a big way, and that's why their various solutions seek to comfort you in an eco-friendly manner.
One Stop Green, LLC facilitates environmentally friendly improvements to residential and commercial properties through distribution of green, energy efficient equipment. They offer every product needed for sustainable energy independence; enabling homeowners, businesses and commercial property owners to master their usage by reducing waste, producing renewable energy from within, and implementing efficient energy consumption methods. Their goal is to provide user friendly and practical long-term solutions to existing inefficiencies in your system and their carefully selected products and professional installers offer a high level of satisfaction and service for their customers.
Contact Nathan Kaufman
http://www.OneStopGreen.com
P: 877.449.9110|O: 713.541.2739|C: 210.846.5900
###