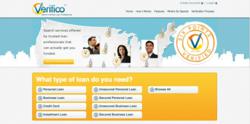 Los Angeles, CA and New York, NY (PRWEB) February 16, 2012
Empire Business Brokers ("Empire") announced its partnership with the secure online funding marketplace Verifico.com (Verifico) this past Friday. Empire is an international network of business brokers dedicated to the sale and purchase of businesses and franchises. President and Founder Nick Gugliuzza of Empire said "this new partnership [with Verifico] brings together numerous funding sources with those who need it." With the partnership between Empire and Verifico, brokers are now able to take their businesses a step further by directing their clients to the verified funding services offered by loan professionals on Verifico.com. In this constricted lending market, receiving a business loan is far from easy, thereby reducing the number of entrepreneurs able to raise the capital needed to purchase and grow businesses.
Verifico is a free online resource that borrowers use to easily find and securely connect with the right loan consultant that can actually get them funded. Loan professionals use Verifico to optimize their business operations and offer their services nationwide. Furthermore, anyone can use Verifico to refer people to Six Points Verified services to earn up to a 9% referral commission. The entire process is kept secure within Verifico's security features, billing and payment processing system PAYv, and the transparent Verifico Dispute Resolution process. Programs currently posted on the platform range from Unsecured Business Loans to Credit Enhancement Services, with many service variances in between. CEO Paris Benson says "We are excited to offer the platform to Empire Business Brokers and their clients. Capital is scarce in today's economy and our platform gives aspiring entrepreneurs an opportunity to receive the necessary funding to buy existing businesses, open new ones and create jobs." With over four years of research and development and backed by experienced industry executives, Verifico is a leader and innovator in the funding marketplace. Over $10 million in funding transactions have been initiated since fully launching the platform in January of 2012, and industry experts anticipate over a quarter of a billion in funding transactions by the end of 2012.
The Verifico partnership does more than help Empire Business Broker's clients receive business funding, it also generates an additional source of income for the brokers by allowing them to offer their services to more qualified consumers than ever before. When a broker sends their clients to Verifico, they can earn a commission of up to 9% on any completed PAYv invoices made by their referrals. With the massive number of potential clients that brokers encounter each year, referral commissions have the potential to add significantly to their income. In order to familiarize Empire's network of business brokers with the Verifico platform, Verifico will be offering three training webinars specifically for Empire's brokers and affiliates.
About Verifico:
Verifico Corporation hosts VerificoTM at http://www.verifico.com, the first secure online marketplace where registered users are able to search for specialty loan programs provided by verified loan consultants before completing transactions all within the platform by using its innovative resources.
Verifico exists to ensure that borrowers are able find the numerous valid professionals and companies and offering alternative loan services while minimizing the risk of fraudulent transactions. Finding secure resources helps consumers choose from the highest quality consultants in the nation. Verifico Corporation has offices in Los Angeles, California and Washington D.C.
About Empire Business Brokers:
Empire Business Brokers is an international network of Business Brokers that are professionally dedicated to the sale and purchase of ongoing businesses and franchises, as well as consulting services for Buyers, Investors, Entrepreneurs and Franchises. Empire's international network has more than 70 offices and hundreds of professionals with presence in the United States, Mexico, Spain, and Central America, all focused on providing services that translate into tangible benefits for their investment initiatives, expansion strategies and project financing.
Contact
Kevin Tighe II
Marketing Director, Verifico Co
1.855.683.7439 ext. 106
kevin(at)verifico(dot)com
###