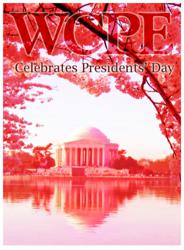 "WCPE has researched various classical musicians who have performed at Presidential Inaugurations"
Wake Forest, N.C. (PRWEB) February 17, 2012
WCPE Assistant Music Director Kenneth Bradshaw announces today a special day of classical music celebrating Presidents' Day, February 20, 2012. 'Four Ruffles and Flourishes' and 'Hail to the Chief' will be heard throughout the day, beginning with Sleepers, Awake through Music in the Night.
"WCPE has researched various classical musicians who have performed at Presidential Inaugurations," offers Bradshaw. "We will be including music from them to add meaning and depth to the celebration of our Nation's 44 Chief Executives."
A partial listing of the pieces performed during the day are:
John Philip Sousa, Easter Monday on the White House Lawn;
Michael Daugherty, Gettysburg Address from Letters from Lincoln;
Morton Gould, American Salute;
John Philip Sousa, Hail to the Spirit of Liberty;
William Grant Still, Symphony No. 4; and
Randall Thompson, Testament of Freedom (from Thomas Jefferson text).
"Additionally, the Presidents who served in one of the branches of the U.S. Armed Forces will be honored with the song for that particular branch of the military," adds Bradshaw, who is also Allegro Host.
WCPE's live broadcast of Great Classical Music, 24 Hours A Day can be accessed around the globe in several ways; on-line streaming in multiple formats, including IPv6, local cable television systems and traditional radio broadcasting. A complete list of the ways WCPE is available with instructions for cable and satellite reception can be found at: theclassicalstation.org/listen.shtml.
About WCPE:
Since 1978 WCPE 89.7 FM has been dedicated to excellence in Great Classical Music broadcasting. WCPE is one of the first community-supported stations to stream on the Internet. The programming is available on our own satellite channel and on multiple Internet streams, including IPv6. WCPE receives no tax-derived support, rather depends on tax-deductible support through on-air fundraising and mail-out campaigns. More information can be found at http://www.TheClassicalStation.org or by calling 919-556-5178.
Media Contact:
Curtis Brothers
919.556.5178
curtis(at)TheClassicalStation(dot)org
###