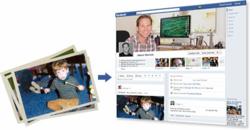 PhotoBin fills in the gaps of Facebook Timeline profiles
San Diego, CA (PRWEB) February 20, 2012
With Facebook's new Timeline rollout, PhotoBin photo scanning services help users display their early years on their Timeline. Over the last four months, users have continued to discover and test the new features. Even so, there is one feature users have not taken advantage of as much as expected; the ability to include life events that took place prior to Facebook's existence. Profiles are no longer limited to current events, but include memorable occasions from a person's past. Users now have the opportunity to share their entire life story from birth to present.
With the Timeline release, PhotoBin is offering a "limited time only" discount on the popular "Value Pack 200 Scanning Package" at $19.99 (regularly priced at $55). The Value Pack 200 enables customers to have 200 photos professional scanned for less than $20. Photos are scanned by PhotoBin's trained technicians. Old print photos are transformed into versatile digital files -- ready for Facebook's Timeline upload.
"PhotoBin is on a picture scanning mission. We love your photos as much as you do. And we never send your photos out of the country. Your photos come to us, stay with us, and go directly back to you. Our slogan 'Scan once. Share forever,' is even more meaningful with Facebook's new Timeline," said PhotoBin Founder and CEO, Steve Weber.
Facebook introduced Timeline in September of 2011. Timeline serves as a new kind of profile page, one that visually aggregates everything a user has ever shared, liked or done on the social network and sites linked to it. Until now, using the Timeline was optional. Yet, word on the social media street is -- users will eventually be called to upgrade to the platform.
With nearly 80% of Facebook users born before 1995, chances are they have traditional albums and boxes of pre-digital prints. The only way for these users to share their print photos on Facebook is to convert them to digital -- either by scanning themselves or by hiring a professional photo scanning service like PhotoBin to do the work.
For more information on how to take advantage of the limited time $19.99 Value Pack 200 photo scanning package, go to http://www.photobin.com/timeline.
About PhotoBin
PhotoBin is a San Diego based photo, negative and slide scanning and video conversion company specializing in world-class photo storage and personal publishing solutions including customizable photobooks, canvas prints, holiday cards and hundreds of photo novelty products. For more information call (800) 441-3175 or go to http://www.photobin.com.
###