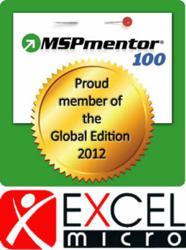 Without the continued support of our resellers this would not be possible
Philadelphia, PA (PRWEB) February 17, 2012
Excel Micro, Incorporated has landed on Nine Lives Media's fifth-annual MSPmentor 100 Global Edition, a distinguished list and report identifying the world's top 100 managed service providers (MSPs). This year's report has been expanded extensively to include:
● The MSPmentor 100 Global Edition
● The MSPmentor 200 North America Edition
● The MSPmentor 50 EMEA (Europe, Middle East, Africa) Edition
● The MSPmentor 25 AANZ (Asia, Australia, New Zealand) Edition
All of the honorees can be found by visiting http://www.mspmentor.net/top-100-msps
"It is an honor to be recognized in this ever growing industry," said Joseph Vaccone, President and CEO, Excel Micro, Inc. "Without the continued support of our resellers this would not be possible. We are looking to bring more diversification to our increasing product portfolio in the future."
The MSPmentor 100 report is based on data from MSPmentor's global online survey, conducted October-December 2011. The MSPmentor 100 report recognizes top managed service providers based on a range of metrics, including annual managed services revenue growth, revenue per employee, managed services offered and customer devices managed.
"Nine Lives Media and MSPmentor congratulate Excel Micro, Inc. for earning this distinguished honor," said Amy Katz, president of Nine Lives Media, a division of Penton Media. "As our expanded survey results reveal, the annual MSPmentor 100 survey attracts MSPs from across the globe. Qualifying for our MSPmentor 100 Global Edition list is a great accomplishment."
"MSPs on this year's global 100 list lifted their annual recurring revenues 28 percent to $1.04 billion, an incredible showing considering the economic uncertainty all IT services providers faced," said Joe Panettieri, editorial director of Nine Lives Media. "Those MSPs are now managing 2.7 million desktop and mobile devices for customers, an incredible jump of 50 percent from 2010."
MSPmentor, produced by Nine Lives Media, is the ultimate guide to managed services. MSPmentor features the industry's top-ranked blog, research, Channel Expert Hour Webcasts and FastChat videos. It is the number one online media destination for managed service providers in the world.
About Excel Micro, Inc.
Excel Micro, Incorporated (http://www.excelmicro.com) is one of the premier Software-as-a-Service (SaaS) distributors handling over 3,500 resellers worldwide offering 100% hosted or cloud based solutions.
The relationship with Google™ as their leading Authorized Distributor of Google Message Security & Compliance Solutions and Authorized Reseller of Google Apps™ for Business has helped Excel Micro grow to now manage over 900,000 accounts worldwide.
Excel Micro has relationships with ZixCorp® for policy-based email encryption, are leading providers of Web Security through Webroot®, and recently finalized a partnership with YouSendIt™ as a Master Reseller. By setting up relationships with industry leaders, Excel Micro takes the burden out of having large minimum commitments and setup fees and gives clients the opportunity to take advantage of market leading solutions without any huge upfront costs.
The primary focus at Excel Micro is assisting clients through their sales and technical support departments 24 hours per day form headquarters based outside of Philadelphia, PA. The primary goal is to not only supporting clients but to work with and assist them with anything from conference calls to live webinars and training sessions. For more information please contact 877-4-No-Spam (466-7726).
About Nine Lives Media
Nine Lives Media, a division of Penton Media, defines emerging IT media markets and disrupts established IT media markets. The company's IT channel-centric online communities include MSPmentor (http://www.MSPmentor.net), The VAR Guy (http://www.TheVARguy.com), Talkin' Cloud (http://www.TalkinCloud.com), VARtweet (http://www.VARtweet.com) and MSPtweet (http://www.MSPtweet.com). For more information, visit http://www.NineLivesMediaInc.com.
Contact:
Excel Micro, Inc.
Michael Amadio, Director of Marketing
610-627-1500 or mamadio(at)excelmicro(dot)com
Nine Lives Media:
Joe Panettieri, Editorial Director
212-204-4206 or joe(dot)ninelivesmediainc(dot)com
###