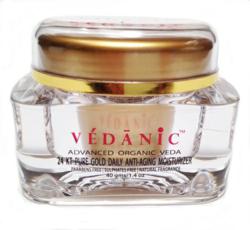 The bath, beauty and skincare market needs disruption. That really is the call of the hour.
Los Angeles, CA (PRWEB) February 20, 2012
Co-founders of the newly founded Vedanic skincare based in Los Angeles, California, Varun Khanna and Tarun Arora amplify "Vedanic's premium ayurvedic organic skincare products are manufactured in Ecocert approved facilities in India and are packaged in FDA approved labs in the United States. Furthermore, Vedanic believes in fair trade, no child labor and importantly over 100 chemicals that are commonly used in so-called herbal and OTC skincare counters are strictly banned from Vedanic's ayurvedic formulations. We believe that Vedanic is the new disruptor in the ayurvedic bath, body and skincare business".
Even though the past hundred years has heralded amazing leaps in bounds in the chemical sciences, one is better off sticking to naturally-sourced alternatives. Although they often generate quick results, many chemicals also cause long-term serious side effects.
"Human skin was not designed to come into contact with certain substances, and one should not wait until an allergic reaction or a serious medical concern to set off bells," amplifies Khanna.
Why are harmful chemicals like parabens and sulphates included in most cosmetics? Simply put, cheap petroleum-derived preservatives, harsh dyes and synthetic stabilizers give products long shelf lives and make them look appealing. They're good and cheap for manufacturers, but horrible for consumers.
Finding parabens free, sulphates free herbal ayurvedic skincare products is difficult. Ensuring that they're actually free of other harmful stuff can be even more difficult.
Turning a new page in the quest for ayurvedic organic herbal skincare, Vedanic's new range of herbal products includes not only 24 Karat Pure Gold derivatives, but also a strong guarantee that consumers will never have to decipher the ingredients labels in these premium ayurvedic, parabens free, sulphates free premium skincare.
Co-founder Arora asks the question, "Why 24 Karat Pure Gold is used in Vedanic's Aurumveda Collection"? The answer, he continued is "not 14, not 18, not 22 but, only 24 Karat Pure Gold acts as a skin-oxygenator. It is common knowledge that burn centers use pure oxygen chambers to repair and heal the skin fast.
A similar concept is used in ayurveda using certified third-party verified 24 Karat Pure Gold by Vedanic.
24 Karat Pure Gold in Vedanic's face scrubs, face packs, face cleansers, skin brightening gels and moisturizers is used to first oxygenate the skin. Once the skin is oxygenated powerful ayurvedic herbs in Vedanic's formulation are delivered to the skin layers. The results - simply put, magical!
###