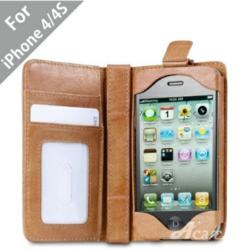 Marlboro, NJ (PRWEB) February 18, 2012
Introducing the latest Acase(TM) Rider Genuine Leather Wallet Case for iPhonr 4/4S from CTCStore.com:
With its metal buttons and its delicate genuine leather, Acase(TM) Rider reminds people of the wild rider racing on the motorcycle. It is not only a case that secures the phone, but now it has become more like a fashionable accessory that adds style to one's apparel.
Like other Acase(TM) fit case series, Rider is also made of high quality material and has a detailed cutout. It protects the iPhone 4/4S with soft genuine leather but allows users to access all functions at the same time.
The metal buttons don't exist for beauty only; it can bring out another fun DIY experience when users take them off of the case. When users snap off the buttons, the strap (which is attached to the case with the buttons) can be taken off and used as a stand: users can freely adjust the strap and make the case stand at different angles. Afterwards, the buttons & the strap become a useful stand that provides a hands-free experience when users want to watch videos with the iPhone 4/4S.
And to add functionality, the leather case also has extra layers which are useful for cards and money. Now the Rider case becomes a wallet.
With its beauty, protection, and convenience, the Rider has become one of the most worthy leather cases for the iPhone 4/4S!
Special Features:
. Material (exterior/ interior): Soft Genuine leather/ Micro Fiber
. Quick and easy access to all iPhone features including a Camera Hole in the back
. Includes wallet pockets for ID, cards and cash
. High quality leather gives delicate touch.
. Adjustable stand for multiple viewing angles
. Color: Black & Brown
# # #