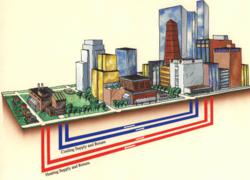 Washington, DC (PRWEB) February 16, 2012
During Energy Secretary Steven Chu's February 16 testimony to the Senate Energy and Natural Resources Committee on the proposed 2013 Department of Energy budget, Committee Member Senator Jeanne Shaheen (D-NH), a proponent of Combined Heat and Power (CHP), posed a question to Secretary Chu on the Department of Energy's position on CHP. Secretary Chu affirmed the Department's support for increased deployment of CHP and cited increased efficiency, reduced strain on the electrical grid and lower operating costs as key advantages of this proven technology. View a video clip of Secretary Chu's statement on CHP.
Secretary Chu discussed his February 2 visit to International District Energy Association Member Thermal Energy Corporation (TECO) in Houston, Texas and explained the significant benefits of CHP and district energy that supplies steam for heating and chilled water for cooling to the Texas Medical Center, the largest medical center in the world. Secretary Chu explained that the dramatic increases in generation efficiency by new gas turbines to 55%-60% can be extended to 80% or above when heat recovery is used to produce heating and cooling through a district energy system. He described how TECO creates and stores a large volume of chilled water at night when power costs are lower and pumps the chilled water for air conditioning in the afternoon to avoid peak electricity demands.
District energy systems like TECO produce steam, hot water and chilled water at a central plant for distribution through underground piping networks in cities, campuses and communities to multiple buildings for space heating, hot water and air conditioning. CHP – also known as cogeneration – allows recapture of heat produced when generating electricity that is normally exhausted as waste, to be used in a district energy system for heating or cooling multiple buildings.
Robert Thornton, President and CEO, International District Energy Association (IDEA), states "District energy systems are clean energy infrastructure that are "built to last". Today, hundreds of district energy systems operating in cities, campuses and communities across the US, have potential to add CHP, just like TECO did in 2010, and generate immediate energy, economic, and environmental benefits. As Secretary Chu stated, CHP is proven technology that is low hanging fruit. When you add CHP to a district energy system, you can dramatically improve the efficiency of 10 to 20 million square feet of buildings at one time. The scale of a district energy thermal network is like harvesting the efficiency of a whole big bunch of bananas with a single central plant investment rather than each individual building one at a time."
TECO, a not-for-profit district energy company founded in 1969, recently completed a $377 million energy infrastructure expansion integrating 48 MW of CHP. TECO's CHP plant now operates at efficiencies of 80 percent, more than twice as efficient as a typical utility generating station. The CHP project, which received a $10 million U.S. DOE American Recovery & Reinvestment Act award, will reduce carbon emissions by 75,000 tons a year and cut carbon dioxide emissions by more than 305,000 tons annually, when operating at full capacity. This is equivalent to taking 52,000 cars off the road.
Secretary Chu explained to the Senate Committee members that cities and institutions with existing district energy systems already have heating and cooling networks in place and are prime candidates for new CHP installation. These entities represent valuable opportunities to implement a proven energy efficiency solution to reduce building energy use, lessen strain on the electrical grid, cut operating costs and decrease emissions.
IDEA supports the US Department of Energy Clean Energy Application Centers, which focus on expanding market opportunities for CHP, district energy and waste energy recovery. Through the Clean Energy Application Centers, the DOE is working with industry to double the amount of CHP in the US by 2030. Secretary Chu's testimony reflects the Administration's intent to support increased deployment of CHP.
Secretary Chu's statement and additional hearing information is available here.
IDEA serves as a vital information hub for the district energy industry and combined heat and power industries, connecting industry professionals and advancing the technology around the world. With headquarters just outside of Boston, Mass., the 1,500- member IDEA was founded in 1909 and comprises district heating and cooling system executives, managers, engineers, consultants and equipment suppliers from 25 countries. IDEA supports the growth and utilization of district energy as a means to conserve fuel and increase energy efficiency to improve the global environment.
Contact:
International District Energy Association
24 Lyman St., Suite 230
Westborough, MA 01581
508.366.9339
idea(at)districtenergy(dot)org
###