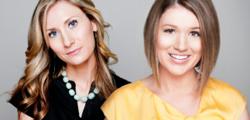 In this economy, you can maximize every dollar by following a few smart steps. And, who can't stand to save another dollar or two?
San Diego, CA (PRWEB) February 17, 2012
Millions of people across the nation flock to the The Krazy Coupon Ladies, for advice on saving money on groceries and household items. But now, the extreme couponing experts are finding and sharing savings tips on everything from clothing, to furniture and more.
"What good is saving all that money on groceries when you're going to turn around and blow it on other areas?" asks Heather Wheeler, Krazy Coupon Lady co-founder. She and her coupon cohort, founder Joanie Demer agree: "In this economy, you can maximize every dollar by following a few smart steps. And, who can't stand to save another dollar or two?"
The Krazy Coupon Ladies will add the following categories to their money-saving website:
Style- Love Joe's Jeans and Tory Burch flats? The KCL's know how to get the look for less. Why spend up to $500 a day at a salon when you can do many of the same treatments at home?
At Home- Readers will be saving in the suburbs with posts such as the "Knockout Knockoffs": Best furniture and home décor knockoffs from Pottery Barn, Restoration Hardware and more.
Travel- There's no need to spend a fortune on activities while traveling. Check out KCL before heading on vacation for discount airfare and secrets to affordable activities around the globe.
Family- Keep kids dressed to the nines and family living like kings all without busting a shoestring budget. This section will also include fun ideas about "repurposing" household items into new toys.
Finance- Practical tips directed at men and women looking to boost income from home. Learn the secrets to becoming a mystery shopper or how to generate extra cash by joining consumer panels and taking online surveys.
About The Krazy Coupon Lady
Joanie Demer and Heather Wheeler, founders of TheKrazyCouponLady.com, are two stay-at-home moms on a mission to help families save $10,000 in a year. Once college roommates, Joanie and Heather now balance their booming business along with pull-ups and sippy cups. They are both passionate about empowering women to take control of their financial lives and have fun at the same time. Co-authors of "Pick Another Checkout Lane, Honey," their website reaches to over 2 million unique visitors/month and they have surpassed 559,000 Facebook followers. Joanie and her husband, an active duty member of the military, currently reside in California with their son and daughter. Heather and her husband, live in Idaho with their two sons and are currently expecting their third child.
###