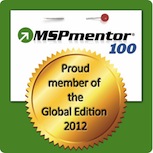 To make this listing again this year is really quite an accomplishment for our company and staff
Austin, Texas (PRWEB) February 17, 2012
White Glove Technologies, a leading managed IT and cloud services provider, is pleased to announce it was ranked in the top 50 managed service providers (MSPs) globally on Nine Lives Media Inc.'s fifth-annual MSPmentor 100. The MSPMentor 100 is a distinguished list and research report identifying the world's top 100 MSPs.
White Glove CEO, Tommy Wald, was on hand as one of three guest speakers when White Glove was named as number 41 on Tuesday's (2/15) list reveal.
"To make this listing again this year is really quite an accomplishment for our company and staff," said Wald. "Considering all of the thousands of outsourced IT service providers that submit to this listing, it says that we're certainly one of the largest and most successful IT service providers in the US."
Along with individual growth, the report showed strong growth in the industry with MSPmentor 100 companies generating $1.04 billion in combined annual recurring revenues for 2011, up 28 percent from 2010. Desktop and mobile device management is up 50 percent, printer management is up 41 percent, and server and network device management is up a staggering 91 percent across the 100 companies.
"Our growth over the past year has been remarkable and we anticipate similar growth this year as well," said Carey Balzer, President and COO of White Glove. "Our growth strategy is not only organic sales, but also continued strategic acquisitions across Texas."
The report is based on data from the MSPMentor's global online survey, which was conducted from October to December 2011. The report does not rank MSPs merely by total revenue, but rather uses such metrics as overall managed services revenue, overall managed services revenue growth, percentage managed services revenue growth, managed services revenue per employee, number of devices managed, and other data points.
ABOUT WHITE GLOVE TECHNOLOGIES
White Glove is the largest provider of managed IT and cloud computing services focused exclusively on serving the needs of Texas-based small and mid-sized businesses. Headquartered in Austin, Texas, we are proud to have served since 1993 as the technology advisor and IT outsourcing partner for thousands of businesses in and around Austin, Dallas/Fort Worth, Houston and San Antonio. While our size and experience provides you comfort that we'll be here for the long-term, our local presence means we're readily available to assist you with fast response from familiar faces that are intimately familiar with your environment. For more information, visit http://www.whiteglovetech.com/ or call 866-491-9700.
###