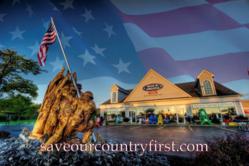 Elma, NY (PRWEB) February 17, 2012
The Made in America store launches their new e-commerce store located at http://www.saveourcountryfirst.com, making it easier for consumers to buy American made products. The new store allows customers to view over 2,500 unique products made 100% in America by Americans and also offers free shipping for any orders over $100.
The new website helps customers easily navigate to news articles, up and coming events and a digital catalog of what the Made In America Store offers. Along with contact information, bus tours and a page devoted to what the Made In America Store is all about. 
"I want to have a place where my customers can engage with each other and find out more information about our mission," said Mark Andol owner of the Made In America Store. "This just strengthens our commitment to our community and dedication to all-American made products. It's that simple."
The "Made in America/Buy American" Movement launched by the MADE IN AMERICA STORE in April of 2010 has swept the country, garnering national and international media coverage, the attention of policy makers in Washington, D.C., and the support of thousands of customers across the United States.
The Federal Trade Commission allows a product to carry the "Made in the U.S.A." label if 50% of it is foreign made, and only 50% made in the U.S.!  That regulation just doesn't make sense to Mark Andol, who wants 100% of the jobs to stay right here in America.
 
In fact, economists say that 200,000 jobs can be created if every American spends just $64 on products made in the United States. When they purchase 100% American Made Products, those jobs are going to be 100% kept or created here in the U.S., not overseas.
The Made In America Store Guarantees their customers 100% American-made products backed by a letter of authenticity from every vendor. All the components and packaging of each item has to fit the store's standard of being manufactured in America.
The Made in America Store is located at 900 Maple Street, Elma, NY. 14059 and online @ http://www.SaveOurCountryFirst.com You can also reach the Made In America Store Team on Facebook, Twitter, Google+, Youtube, Foursquare, Tumblr and Pinterest.
Dan Andol, Vice President
Made In America Store
716-652-4872
http://www.saveourcountryfirst.com
###