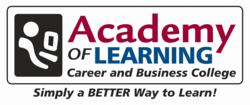 Toronto, Ontario (PRWEB) February 17, 2012
Academy of Learning Career and Business College is pleased to announce an articulation agreement with National American University (NAU) effective December 19, 2011.
Graduates of Academy of Learning's Business Administration diploma program now have the ability to transfer their credits over to obtain an Associate of Applied Science Degree in Applied Management; Associate of Applied Science Degree in Business Administration; or Bachelor of Science Degree in Applied Management at National American University.
This new articulation agreement with Academy of Learning and National American University encourages students to further their education through effective and convenient online learning. Students can now graduate from Academy of learning and enroll at NAU to earn a degree online.
About Academy of Learning
Academy of Learning was founded in 1987 and since then has been recognized as a training leader, offering a wide range of programs that is relied on by students, employers and government agencies. Today, with over 60 college locations across Canada, Academy of Learning Colleges can be found in Prince Edward Island, New Brunswick, Nova Scotia, Ontario, Alberta, Saskatchewan, Manitoba, Northwest Territories and British Columbia.
Academy of Learning offers more than 45 registered diploma and certificate programs that are delivered through Academy of Learning's Integrated Learning™ System, Online Learning, Instructor Led Learning or Virtual Learning.
Academy of Learning is a registered as a private career college. For more information about Academy of Learning and the programs offered, please visit the Academy of Learning website or call your closest campus location.
About National American University
National American University was founded in 1941 in Rapid City, South Dakota and has expanded to 34 locations throughout the central United States, so far. NAU is accredited by The Higher Learning Commission and is a member of the North Central Association, Chicago, Illinois.
Since 1996, NAU has been one of the first educational institutions to offer students courses with the ability to earn full degree programs online. Today NAU continues to serve students on a global level and has more than 4,600 online students.
###