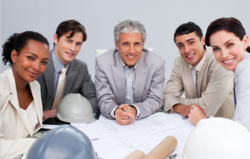 Manage Diabetes Mellitus brings the number of Medical Home Builder 2.0 modules to 15—covering a wide range of practice management and medical issues.
Philadelphia, PA (PRWEB) February 21, 2012
Preventing, screening and treating diabetes is the focus of the newest module added to the American College of Physicians' (ACP's) online practice management tool, Medical Home Builder 2.0. A robust yet easy-to-use online tool, Medical Home Builder 2.0 enables physicians and their staffs to measure and—where needed—improve patient care, office procedures and procedural care workflows according to the Patient-Centered Medical Home (PCMH) model.
Manage Diabetes Mellitus brings the number of Medical Home Builder 2.0 modules to 15—covering a wide range of practice management and medical issues. Diabetes is the seventh leading cause of death in the U.S., and 18.3 million people or 8.3 percent of the U.S. population have been diagnosed. With an estimated seven million undiagnosed cases in the U.S., rates and complications from diabetes are expected to rise.
"Medical Home Builder 2.0 will help practices improve patient care and increase office efficiency," said Dr. Michael Barr, ACP's senior vice president for the division of medical practice, professionalism and quality. "The module on diabetes mellitus is the first of a growing series to help practices apply the attributes of the patient-centered medical home to specific clinical conditions. Modules that address adult immunization, depression, chronic pain management and other clinical topics are currently in development."
MHB 2.0 users are enrolled in an online community of practices that are committed to improving patient care and identifying office efficiencies based on the PCMH model. A PCMH facilitates partnerships among individual patients and their providers and, when appropriate, the patient's family. Ultimately, a PCMH may allow better access to health care, increase satisfaction with care and improve health.
Not all MHB 2.0 users plan to become medical homes—but all find value in the variety of modules available and guidance provided. Every member of participating practices has access to all Medical Home Builder content including peer-to-peer videos and a community discussion forum where questions can be posed to colleagues.
Each module includes:

Background information—an explanation of key principles, research and important concepts for members of the office team.
The Practice Biopsy—a series of questions on the topic of the module. Questions in the modules that cover patient-centered medical home attributes were derived from the National Committee for Quality Assurance (NCQA) PCMH 2011 recognition criteria, URAC standards and Joint Commission guidance. Each Practice Biopsy helps identify opportunities for improvement—or validates efforts a practice has already undertaken in the area addressed.
A Case Study—How It Works in Practice, which describes the experience of one medical practice as it works through problems commonly encountered by ambulatory care providers.
The Resource Library—a virtual bookshelf, which includes relevant references and informative guides in a variety of formats including downloadable guides and policy templates.
Reporting functions—to help track progress over time, identify opportunities for improvement and compare practices.
Medical Home Builder 2.0 Manage Diabetes Mellitus module was made possible by funding from NovoNordisk.
About the American College of Physicians
The American College of Physicians is the largest medical specialty organization and the second-largest physician group in the United States. ACP members include 132,000 internal medicine physicians (internists), related subspecialists, and medical students, residents and fellows. Internists specialize in the prevention, detection, and treatment of illness in adults. Follow ACP on Twitter and Facebook. For more information on Medical Home Builder, visit http://www.medicalhomebuilder.org.
# # #