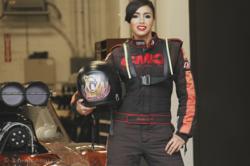 Atlanta, GA (PRWEB) February 16, 2012
National Hot Rod Association (NHRA) Drag Racer, Nicole Lyons, has officially kicked off her NHRA Division 2 Top Sportsman race season this past weekend at the Orlando Speed World Dragway. Lyons, similar to other drivers, endured extreme weather conditions on the track making this race extremely difficult. Despite the track conditions, which caused major tire shake during every pass; the determined Lyons completed each pass in her car containing a 1500 horse power Steve Schmidt engine. Lyons finished 3rd in points, and is well positioned in the top three slots going into Gainesville Raceway on February 17-19th.
Aside from weather, Lyons' faced several challenges during the Orlando race. A severe tire shake from the extreme cold front caused Lyons' airlines to be disconnected from her car's parachute. During one of the passes, going 7 seconds in a quarter mile, Lyons was unable to engage her parachute, even after trying manually. The experienced driver, Lyons, was able to safely slow down and bring the car to a halt at the end of the track.
In addition, to the unusual weather challenges, this past Saturday brought additional bad news of the passing of Nicole Lyon's favorite singer, Whitney Houston. Lyons has been a fan of Houston for over 15 years and decided to dedicate her Orlando race to Houston.
"It was somber throughout the pits as the news spread of Whitney Houston's death. Several other driver shared their condolences with me as I showed my sorrow for hearing her passing," stated Lyons.
Despite the encounters Lyons faced this weekend, she still finished three qualifying runs to get into the semi rounds of the D2 Top Sportsman Series.
Lyon's race successes were also featured this past week by renowned news anchor Brian Williams on NBC's Nightly News. Lyon's segment focused on her being a history maker as the only female racer in NHRA D2 and D7 Top Sportsman and soon to be the first African American female to race in NASCAR in 2012-2013. The story can be viewed by the following link http://www.msnbc.msn.com/id/3032619/#46302911.
"Redefining history is what I do best," comments Nicole Lyons, "Being a woman in racing, I have to consistently overcome boundaries to make it where I am today. I am committed to becoming the world's number one racer in NHRA and NASCAR."
About Nicole Lyons: Nicole Lyons, 5'6" exotic beauty, has been a part of the National Hot Rod Association since 2005; it was her previous record-breaking performance that gained her the membership of NHRA. Lyons is one of the few drag racers that has the ability to build and design her own engines. Nicole Lyons has already been featured on several news outlets including FOX, CBS, NBC, Tyra Banks, Drag Illustrated Magazine, RIDES Magazine, G4TV, and many more. She is what critics are calling "The Jackie Robinson of Drag Racing."
About National Hot Rod Association (NHRA): National Hot Rod Association (NHRA) was founded by Wally Parks in 1951; NHRA has been dedicated to safety while providing millions of racing fans with The Extreme MotorsportTM: the fastest and most spectacular form of entertainment on wheels. With 80,000 members and more than 35,000 licensed competitors, NHRA is a thriving leader in the world of motor sports. NHRA offers drag racing opportunities for hot rod enthusiasts of all levels, from kids ages 8-17 in the NHRA O'Reilly Auto Parts Jr. Drag Racing League all the way up to the top of the professional ranks with the organization's $50 million NHRA POWERade Drag Racing Series.
###