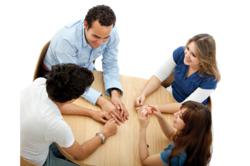 Maddak is committed to enhancing 'quality of life' by providing products that make the daily tasks of independent living easier.
Wayne, New Jersey (PRWEB) February 21, 2012
Maddak values the experience and knowledge of occupational therapists, as well as the creative spirit they bring to their work as they strive to improve the quality of life for their patients. Susan Tulanowski, Marketing Manager at Maddak Inc., tells us "Like occupational therapists, Maddak is committed to enhancing 'quality of life' by providing products that make the daily tasks of independent living easier. In order to advance this common goal, Maddak has created the OT™ Circle Program."
Designed to be a partnership between Maddak and the occupational therapy community Tulanowski explains that "the goals of the OT Circle Program are to facilitate opportunities for occupational therapists to connect with each other, to educate the public on the roles occupational therapists play in care and treatment, and to work more closely with occupational therapists as we develop professional assessment tools and ADLs designed to further independent living."
"Occupational therapists play a major role in patient care and treatment by providing solutions to problems that lessen the quality of a person's life. The roles are varied and include practitioners, educators, researchers, scientists and entrepreneurs. In each of these roles they help people across the lifespan who have conditions that are mentally, physically, developmentally or emotionally disabling improve their ability to perform tasks in their daily living and working environments. They know what their clients need and if a certain product isn't commercially available they will make it themselves," asserts Tulanowski.
By joining the OT Circle™ members will get opportunities to help with product design and development, sample new products, participate in focus groups and educational webinars, and to network with Maddak employees. "Additional benefits" Tulanowski tells us, "include free passes to trade shows, a monthly e-newsletter, and literature and/or product samples to support their programs and initiatives. In fact, just recently we sent all of our members samples of our new line of Silipos® Gel Products and we donated products to a wellness fair organized by the Cincinnati State OTA Program."
The OT Circle™ is free to join and there is no monthly fee or obligation. It is open to all occupational therapists, occupational therapy assistants and occupational therapy students. To learn more or to join the Maddak OT Circle™ Program go to http://www.maddak.com/pages.php?page=maddak_ot_circle&osCsid=ce9cdd2d370942be8bc0ccfe81734191.
You can also write, call, fax or email: Maddak Inc., 661 Route 23 South, Wayne, NJ 07470, Tel: 973-628-7600, Fax: 973-305-0841, Email: otcircle(at)maddak(dot)com or visit the Maddak web site – http://www.maddak.com .
About Maddak
Maddak Inc. manufactures products that simplify the tasks of daily living – eating, drinking, dressing, grooming, bathing, toileting, etc. – for seniors, people with disabilities and people undergoing rehabilitation. The company mission is to provide quality products that enable people to maximize their independence and remain active despite any limitations they may face. Marketed under the Ableware® brand name, the Maddak product line includes over 500 products sold through medical and hospital supply centers, pharmacies, homecare centers and internet outlets. Established in 1971, Maddak Inc., headquartered in Pequannock, NJ is the largest U.S. manufacturer of assistive devices, clinical modalities, home healthcare and rehabilitation products.
# # #