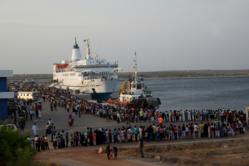 God has given us opportunities to 'bring knowledge, help and hope' in tangible, life-changing ways to so many people. These have been three years of experiencing God's faithfulness and provision.
Manila, Philippines (PRWEB) February 21, 2012
In Logos Hope's three years of active service, God's faithfulness has been evident in remarkable ways. On February 19, 2009, the ship sailed from Køge, Denmark at the beginning of her voyage of hope. Since then over 2.5 million visitors have come on board to get access to educational and Christian literature and many thousands more have benefitted from the service of crewmembers on shore.
"I look back with tremendous gratitude at the impact of the Logos Hope ministry," said CEO Peter Nicoll, "God has given us opportunities to 'bring knowledge, help and hope' in tangible, life-changing ways to so many people. These have been three years of experiencing God's faithfulness and provision."
The ship has sailed over 40,000 nautical miles from Europe to the Caribbean, West Africa, the Eastern Mediterranean, the Arabian Peninsula, India, Sri Lanka, Malaysia and Singapore. Logos Hope arrived in the Philippines at the start of 2012.
"I still vividly remember the day we set sail," said Logos Hope Director Gian Walser (Switzerland). "Since then we have had many wonderful opportunities to share the Gospel. On a daily basis the Lord is impacting lives in the countries we visit, the communities we connect with, and of our crew on board."
Opportunities for ministry have been as varied as the cultures and countries the ship has visited. Rural libraries were established through literature donations in Sierra Leone. In India and Sri Lanka, many people in poor communities benefitted from free medical and dental clinics.
In Malaysia, the newly opened 'Life-Xperience' exhibit on the ship's Visitor Experience deck provided a platform to educate and challenge people about HIV and AIDS and their attitudes towards those affected by it. Crewmembers put theory into practice in Port Klang, Malaysia. A team stayed at the Life Shelter home for children and women who have lost their parents or husbands to HIV. A few are themselves HIV positive. The team lived out the love of Christ while they carried out work projects and taught the children valuable practical skills. The team was so touched by the plight of one young boy from Liberia that they raised funds for a much needed operation.
Manila is Logos Hope's 66th port of call. While it is the ship's first visit to the Philippines, OM's Ship Ministry is well known through previous ship visits. Ministry to street children and homeless families in Cebu was started during a Doulos visit in 2001 and has developed into a long-term work by OM Philippines.
Such impact is not without its challenges. There is a critical need for additional qualified marine personnel, as well as openings for many others to serve on board. Significant additional funding is needed in 2012 for the 'Power Up Logos Hope' project to replace two of the vessel's generators and install a heat recovery system. These vital upgrades will lay the foundation for future ministry by making the ship more efficient and reducing fuel consumption.
For latest news, further information, port schedules and opportunities to participate visit http://www.omships.org.
Logos Hope's global impact is dependent on the financial partnership of individuals and churches around the world. To support the ongoing ministry of Logos Hope, please contact your local OM office or give online at http://www.omships.org/donate
OM Ships International
Marketing & Communications
ABOUT OM SHIPS INTERNATIONAL
OM Ships International (OMSI) exists to transform lives by bringing knowledge, help and hope to the people of the world. OMSI pioneered the concept of using ships to transport literature, humanitarian aid and people resources. The organisation's ships are well known for their work providing educational and Christian literature in ports around the world.
OMSI began in 1970 as part of the global Christian training and outreach movement, OM International. On board Logos Hope the crew and staff of 400, including professional seafarers, are all non-salaried volunteers. With over 45 different nationalities represented, the onboard community is a fascinating expression of cross-cultural living and understanding that reflect the church around the world. Crewmembers are unified by their faith and goal to share God's love as they serve in port communities. The ship remains in port for several weeks and opens to thousands of visitors every day.
Over one million visitors come on board each year to browse the hallmark of the Ship Ministry—a large floating book fair with over 5,000 titles in stock, including books for university studies, professional and career interests, history, science, economics, language learning, hobbies, novels, children's stories, biographies, dictionaries, atlases and a wide variety of Christian resources, including Bibles, study materials and books on Christian living.
The ships also bring aid and relief to needy people and places around the world. Crewmembers go ashore to provide medical aid, help construct schools, orphanages and homes, and give gifts of food, clothing and books. Teams also visit hospitals, orphanages and prisons to share God's compassion and love.
Since 1970, over 42 million people have visited the ships during more than 1,400 port visits in over 150 nations. People from all walks of life, from presidents and prime ministers to street children and the homeless, have been welcomed on board.
OMSI's operational costs are met by sponsorship of onboard personnel, general donations and gifts, reductions and waivers of fees by civic and port authorities, book sales, and corporate support in each port of call.
Logos Hope is operated on behalf of OMSI by GBA Ships e.V. (formerly Good Books for All), a private, non-profit, entity registered in Germany.
###