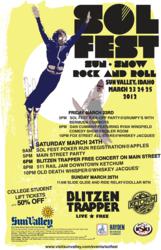 Sun Valley, ID (PRWEB) February 17, 2012
Sun Valley, Idaho announces the perfect college spring break plan: SolFest 2012. This weekend of events promises Sun, Snow and Rock and Roll to all attendees March 23-25th. Musical guests Blitzen Trapper will headline the weekend events playing a the free Main Street Party and Concert March 24th on Main Street in downtown Ketchum, ID.
SolFest 2012 Schedule of Events:
Friday March 23

5:00 pm SolFest kick-off party at Grumpy's Bar and Grill with musical request specialists Bermuda Cowboys
10:00 pm Southern rockers, Fox Street All Stars, play Whiskey Jacques
Saturday March 24
9:00 am – 2:00 pm Baldy Poker Run, register at Apple's Bar and Grill
5:00 pm Main Street Party. Blitzen Trapper headlines multi-act, free concert
8:00 pm 511 Rail Jam at 511 Building, downtown Ketchum
10:00 pm Local troubadours, Old Death Whisper, play Whiskey Jacques
Sunday March 25
11:00 am Slide, Glide, Ride Relay at Dollar Mountain, a fun event for families and friends of all ages and sizes.
At a time when the skiing and snowboarding is at its finest, the days are long and warm, and the spring vibe fills the air, SolFest is bringing back the heart and soul of mountain town culture.
With Northwest and Rockies colleges on spring break, Sun Valley Resort is rolling out the red carpet offering college students with a valid student I.D. up to 50% off lift tickets, Stay and Ski Free packages, and gift certificates. Never has there been a better time for those looking for a memorable spring break to make the trip to Sun Valley.
"There is something special about Sun Valley in the spring and we are serving up SolFest to bring people to town for a great time. Few things are better than tearing up the ski hill with your friends rocking a neon one-piece with the bars and streets filled with great music and good times," said Visit Sun Valley's Greg Randolph.
"We are starting a spring tradition and using our creativity and resources to show younger generations just how much fun Sun Valley is. We are lining up a great event, the skiing is always awesome this time of year, and having talent like the Fox Street All Stars and Blitzen Trapper on board is going to put the party over the top," said Whiskey Jacques booking agent, Thatcher Marsted.
For more information visit: http://www.visitsunvalley.com/events/solfest.
Visit Sun Valley is the destination marketing organization for the Sun Valley region of south-central Idaho. Located amid a pristine mountain environment and high desert climate Sun Valley is a four season outdoor paradise known as much for its art and cultural offerings as its recreational opportunities. Home to America's first destination ski resort, Sun Valley is recognized as The Original Mountain Town for its mountain heritage and down to earth appeal. For more information on area events, lodging, dining, shopping, and recreational offerings go to http://www.visitsunvalley.com. For media inquiries contact Greg Randolph at greg(at)visitsunvalley(dot)com or 208.725.2103.
###